Only one life, 'twill soon be past, and only what's done for Christ will last. It's time to step up, Christian, while the door's still open…
"And I thank Christ Jesus our Lord, who hath enabled me, for that he counted me faithful, putting me into the ministry;" 1 Timothy 1:12 (KJV)
Today while our team was just finishing up preaching on the streets in Saint Augustine, we were joined by two old street preacher friends Brian Teryek (middle), and Pastor Mark Bennett from Sure Word Baptist Church in Ponte Vedra. For those who have a passion for souls, St. George street in Saint Augustine, FL, is an incredible mission field that is truly "white unto harvest". The Lord has given us an open door there for the past 4 years to preach, evangelize, hand out tracts, and pray with all those who ask us to.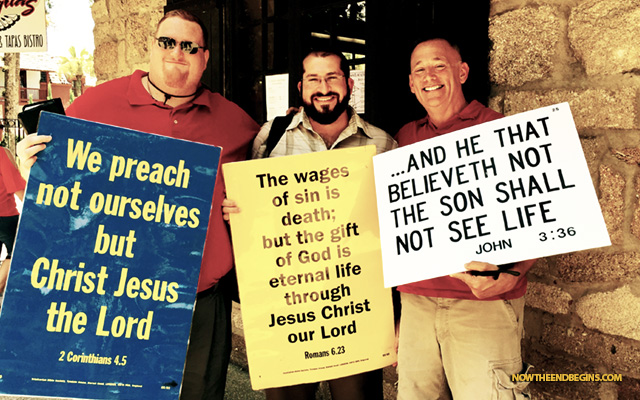 While I was preaching, a group of 4 men in their early twenties stopped by to ask me a question. The men were in rough shape and reeked of beer, and the leader of the group asked me the following question. He wanted to know "does the Bible talk about a war between God and Satan?" I replied that it absolutely does, and gave him the passages from Ezekiel 28 and Isaiah 14 where the origins of that war are discussed. I told them that because of his pride, Lucifer was lifted up against God and set his sights on God's Throne. The young man then informed me that I was very much mistaken.
He said that God fights against Satan to stop him from giving us a "higher level of knowledge and understanding". He wasn't being funny with me, in fact he was quite serious. This is what he actually believes. This is why it is so to important hand out gospel tracts and witness on the streets where the people are. These 4 men would never darken the door of a church, the church has to come to them. Since it us our policy to never argue with people or enter into lengthy debates, after telling them what the Bible said I thanked them for talking with me, gave them a tract and off they went. What they do with it is between them and the Holy Spirit, I did what I was called to do.
How about you, Christian? There are people like these young men in your neighborhoods right where you live, and if you're saved Jesus commands you to go out and proclaim the gospel to them. Not argue, not debate, not create YouTube videos of explosive confrontations, but to give a passionate, caring proclamation of the gospel message to a lost and dying world. And not just for the lost and prodigal, but to the saved as well. Saved people get encouraged when they see other Christians doing what the Lord calls us to do, and they stop and pray for us all the time. We love to receive the encouragement!
"And the lord said unto the servant, Go out into the highways and hedges, and compel them to come in, that my house may be filled." Luke 14:23 (KJV)
So please prayfully get before the Lord and ask Him to give you a burden for the lost you come in contact with every day, and He will surely do it. And pray about ordering a box of our street-tested, crowd-proven, and Holy Spirit anointed NTEB Gospel Tracts. NTEB gospel tracts are bright, 4-color, and printed on glossy postcard stock. On the back is a laser-focused gospel presentation and salvation invitation to the reader. We have personally handed out thousands and thousands of these tracts, and can testify that they are very well received.
Long time NTEB reader Eleanor wrote to us just this morning and said this: "I want you to know that I received my tracts and they are wonderful. I put the first pack in my purse and am looking forward to sharing these with everyone. I am an avid reader of and poster on your website, it is one of the very few parts of the internet that I trust to give me Truth. God bless you, Jesus is returning soon !!"
Only one life, 'twill soon be past, and only what's done for Christ will last. It's time to step up, Christian, while the door's still open…