No longer the land of the free
All this to try and catch one skinny kid with a gun. Almost makes you think that instead of searching for a terrorist, we are seeing a dress rehearsal for the permanent installation of martial law in America. Think it can't happen? 6,000,000 Jews found out the hard way that sometimes, what looks like martial law is really martial law.
So before you read our breaking news story on martial law in Boston, perhaps it would be a good time to remind you of this:
From Daily Mail UK: One million people are caught in the Boston city security lockdown as police hunt the surviving marathon bomb suspect.
Streets are deserted as authorities warned residents to lock their doors and remain inside as they continue the manhunt for the surviving suspect from the marathon bombing as the entire city of Boston is deserted.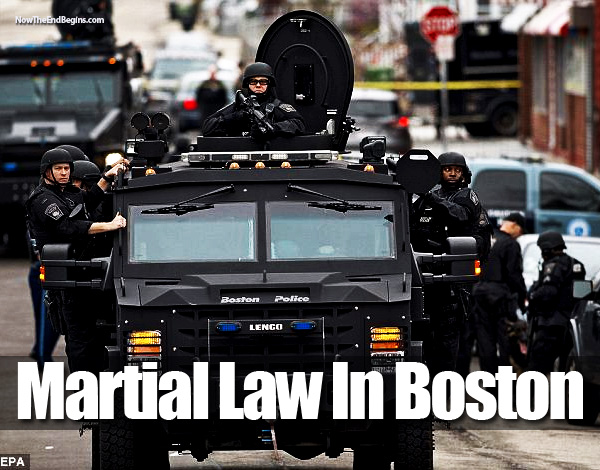 The city is being controlled by SWAT teams and an army of police as they try to keep everyone indoors by shutting down the entire public transportation system, closing schools and ordering businesses to remain closed for the day.
The Massachusetts Bay Transportation Authority subway and commuter rail system is shut down until further notice as officials try to keep citizens off the streets following the fatal shoot out in Watertown early Friday morning that lead to the death of the first suspect.
Amtrak services in the area around Boston has been suspended indefinitely, keeping people- including 19-year-old suspect Dzhokhar A. Tsarnaev- from leaving the city.
'This is a serious situation, we're taking it seriously. We're asking the public to take it seriously as well,' Governor Deval Patrick said in a Friday morning briefing.
He said that the transport systems will remain shut down until further notice.
Megabus cancelled 18 buses and other bus companies including Bolt Bus, Greyhound, and Peter Pan-that were scheduled to travel between Boston and neighboring states, changing plans for more than 1,000 passengers.
Officials have called for businesses to remain close and are asking for their cooperation in keeping their employees off the streets. Taxi services have been suspended as well.  In some areas, cars are banned from the roads as another tact for authorities to keep control of the area. It will also theoretically help them single out Tsarnaev if he is on the roads. source – Daily Mail UK