Posts tagged
bin laden

The revenge of Bin Laden
Twin explosions struck a paramilitary training center in northwestern Pakistan on Friday, killing at least 80 people, in what the Pakistani Taliban described as its "first revenge" for the death of Osama bin Laden. The group threatened bigger attacks to come, in a statement shortly after the explosions. The blasts targeted newly trained recruits about to be bussed home on leave in Pakistan's Charsadda district, near the Afghan border.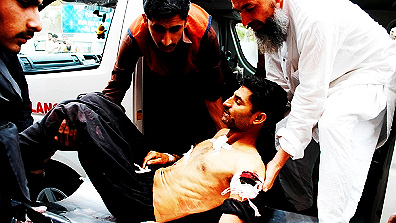 A suicide bomber detonated at least one of the blasts at the main gate of the facility for the Frontier Constabulary, a poorly equipped but front-line force in Pakistan's battle against Al Qaeda and allied Islamist groups close to the Afghan border. Like other branches of Pakistan security forces, it has received U.S. funding.
More than 100 people were wounded, and 66 of the dead were recruits.
"This was the first revenge for Usama's martyrdom. Wait for bigger attacks in Pakistan and Afghanistan," Pakistani Taliban spokesman Ehsanullah Ehsan told AFP by telephone from an undisclosed location.
"Also, the Pakistani army has failed to protect its land," Ehsan later told The Associated Press.
The scene of the blast was littered with shards of glass mixed with blood and human flesh. The explosions destroyed at least 10 vans the recruits were boarding to go home for a short break at the end of a recent training session.
Dr. Abdul Hameed Afridi of Lady Rieding Hospital in Peshawar said 117 people have been treated at the hospital, including 40 with critical wounds.
About 3 to 4 pounds of explosives were used in one explosion, said police officer Jahanzeb Khan. Ball bearings and nails were used in another, heightening the death toll, he said.
A vegetable vendor at the site said some recruits were seated in white minivans and others were loading luggage atop the vehicles.
"There was a big blast," he said. "I saw smoke, blood and body pieces all around." source – Fox News