Obama Signs Bill Restoring Horse Slaughter For Human Consumption
Obama, Congress restore horse-slaughter industry
President Obama last month quietly signed into law a spending bill that restores the American horse-slaughter industry, just a few months after a government investigation said the ban on slaughtering was backfiring.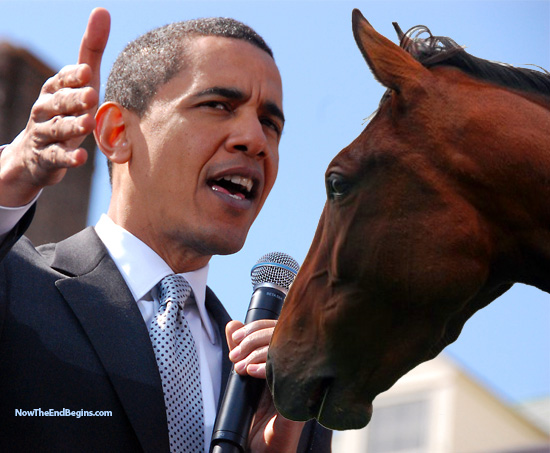 The ban had been imposed in 2006 when Congress defunded the government's ability to inspect plants that butchered horses for consumption. Without inspections, the meat couldn't be sold, and the industry withered.
But the Agriculture spending bill Mr. Obama signed the week before Thanksgiving dropped the prohibition on inspections, and the administration said it now stands ready to conduct them should anyone open a horse-slaughter plant. source – Washington Times
| | | |
| --- | --- | --- |
| | Print article | This entry was posted by NTEB News Desk on December 1, 2011 at 3:30 pm, and is filed under Obama. Follow any responses to this post through RSS 2.0. Both comments and pings are currently closed. |

about 11 hours ago - 30 comments
On Sunday evening, starting at 8:45PM EST, our THE WISE SHALL UNDERSTAND Radio Show will be broadcasting live this very important show. There will be a live chat room, a free gospel tract giveaway, and we will be taking your calls and questions all until 11:00PM EST.
Comments are closed.