Cruise Missile Hits Gaddafi Compound
So where is Gaddafi right now?
WASHINGTON — A cruise missile blasted Libyan leader Moammar Gadhafi's residential compound overnight in an attack that carried as much symbolism as military effect. Fighter jets also destroyed a line of tanks moving on the rebel capital. The U.S. said the international assault would hit any government forces attacking the opposition.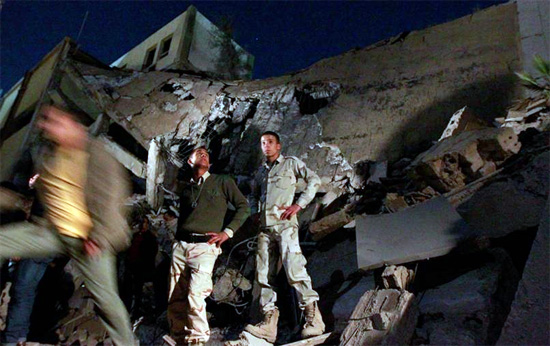 Jubilant rebels said they expected to bring Gadhafi down in a matter of days. Meantime, U.S. military officials told NBC News that Gadhafi's chief of staff has ordered that bodies be removed from morgues and placed at a bombing site in Bab al Azaziya to make it appear the dead had been killed by coalition air strikes. The site, which the U.S. insists was a legitimate military target, was bombed Sunday and military intelligence reported no sign of civilian casualties. According to intelligence reports, once the bodies are in place, international media will to be taken to the site to report the alleged atrocity. The reported effort to stage the deaths of innocent civilians comes after the head of the Arab League condemned the apparent killing of civilians in coalition airstrikes.
Attack on Gadhafi's home
It was not known where Gadhafi was when the missile hit near his iconic tent late Sunday, but it seemed to show that while the allies trade nuances over whether the Libyan leader's fall is a goal of their campaign — he is not safe." source – MSNBC

about 2 years ago - 2 comments
French warplanes destroyed several Libyan military vehicles, including tanks, in eastern Libya today, French officials said, in the first show of force by an international coalition mobilizing to stop Libyan leader Moammar Gadhafi's attacks on opposition strongholds and enforce a U.N.-backed no-fly zone. As pro-Gadhafi forces battled towards the rebel stronghold of Benghazi, 20 French fighter jets flew over the region in an operation largely intended to be a show of force, the French Defense Ministry said. Earlier today, a fighter jet resembling a Libyan MiG 27 was shot down over the city, according to news reports from inside Libya.