New Protests Break Out In Egypt
It ain't over till it's over
CAIRO — With a new wave of demonstrations in Tahrir Square on Tuesday — by some measures the largest anti-government protests in the two-week uprising — Egyptians loudly rejected their government's approach to political change and renewed their demands for the immediate resignation of President Hosni Mubarak.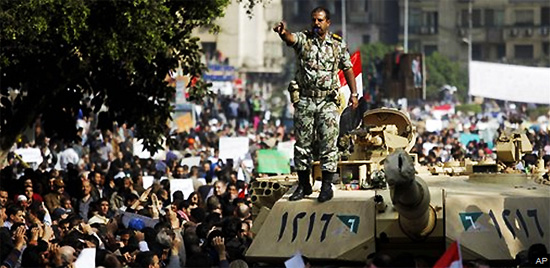 In a telephone call, Vice President Joseph R. Biden pressed his Egyptian counterpart, Omar Suleiman, to lift the 30-year emergency law that the government has used to suppress and imprison opposition leaders, to stop locking and beating up protesters and journalists and to invite demonstrators to help develop a specific timetable for opening up the political process. He also asked Mr. Suleiman to open talks on Egypt's political future to a wider range of opposition members.
In a daily battle for momentum, the government made fresh pledges to create committees to study proposed democratic openings, but demonstrators came out in force to insist that they wanted more than an evolutionary plan by the existing authorities.
With many ordinary Egyptians are beginning to complain of the economic toll the protests have had, the government may still have advantages as the standoff becomes protracted. But many younger people are wary of losing the grass-roots fervor that has brought Egypt to the precipice of historic change. source – NY Times
Related

about 6 months ago - 17 comments
An Egyptian court on Monday ordered the Muslim Brotherhood to be banned and its assets confiscated in a dramatic escalation of a crackdown by the military-backed government against supporters of the ousted Islamist president Mohammed Morsi.
Comments are closed.