Consumer Reports: Stay Away From Obamacare Website!
Obama and his thugs had unlimited time and unlimited money, and the very best they could do was to produce a website that is a miserable failure. Now, ask yourselves, how well will they do when they begin advising doctors on how to treat you when you get sick?
Hope you are prepared to die. Seriously….
Consumer Reports, which publishes reviews of consumer products and services,advised its readers to avoid the federal healthcare exchange "for at least another month if you can." "Hopefully that will be long enough for its software vendors to clean up the mess they've made," the magazine said, having tested the site themselves over the course of the past three weeks.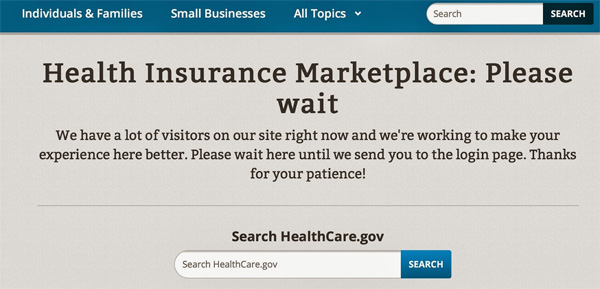 Noting that only 271,000 of the 9.47 million people who tried signing up in the first week managed to create an account, Consumer Reports then provided a few tips to those attempting to slog through the application process. From attempting successive logins because "error messages … may not always match reality" to checking your inbox frequently because if you miss an e-mail you'll be timed out of the site and forced to start from square one, none of the suggestions guaranteed success.
The magazine has also released a string of scathing reviews. On October 1, the day the Obamacare exchanges went online, the magazine told people to be patient: "Don't worry if you can't sign up today or even within the next couple of weeks." A week into enrollment, they urged again to "wait a couple weeks and hope that the site irons out its many problems" because the HealthCare.gov is "barely operational."
As the editors continued to review the website over the next few days, they only had one positive statement: "On the plus side," they noted, "consumers coming to HealthCare.gov are no longer stopped cold by an error message or a screen saying they've been put in a waiting line."
Now three weeks into the exchanges, having offered reviews and advice, Consumer Reports said that "If all [these suggestions] are too much to absorb, follow our previous advice: Stay away from Healthcare.gov," at least for the time being. source – National Review

about 3 weeks ago - 4 comments
Barack Hussein Obama is public enemy #1 of the American people. Obama knew you would not keep your health plan, Obama knew your premiums would skyrocket, Obama was well aware of all the falsehoods and pitfalls of his master scheme to defraud America. He does not need to be brought up on charges of treason, he needs to be escorted out of the White House under armed guard and taken to Gitmo for incarceration.
Comments are closed.