US Fears Israel Now Preparing To Strike Iran Alone
Israel must do whats necessary to stop the bomb
Talks in Geneva on Iran's nuclear program are triggering fears within U.S. intelligence agencies that Israel is hardening its stance on Iran and could conduct a military attack to stave off what the Jewish state believes is a delaying tactic for Tehran to buy time to build nuclear weapons.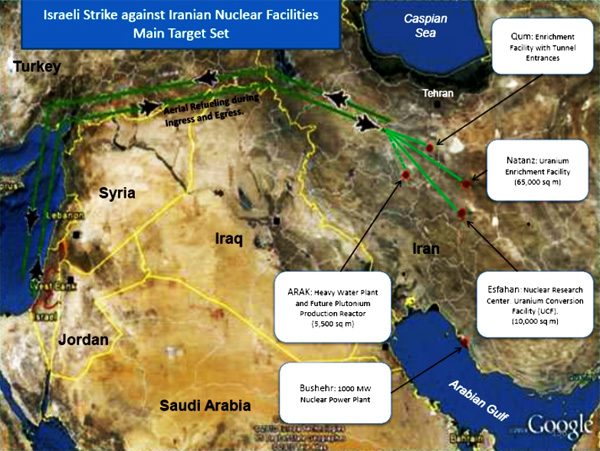 The clearest indicator of growing Israeli concerns, according to defense officials, is the recent large-scale Israeli air force drill Tuesday in the northern part of the country. The exercises along the northern border and over the Mediterranean were considered unusually large.
An Israeli defense source told Israel's Walla! news outlet: "Changes have recently occurred in the Middle East. The [Israeli Defense Force] is preparing for those changes in both the closer and more distant perimeters, and yesterday's exercise was intended to signal the IDF's serious intention of dealing with those problems and thwarting them."
Additionally, Israeli air forces conducted long-range fighter exercises last week involving in-flight refueling practice.
The talks in Geneva have produced press reports that the Obama administration is preparing to ease sanctions on Iran following conciliatory statements by Iranian Prime Minister Hassan Rouhani at the U.N.
 last month.
Israeli Minister of Strategic and Intelligence Affairs Yuval Steinitz, a confidant of Prime Minister Benjamin Netanyahu, said Wednesday that Israel would welcome an agreement to end Iran's nuclear arms program. But Israel remains concerned that "Geneva 2013 could become Munich 1938," Mr. Steinitz said, referring to the agreement appeasing Nazi Germany's seizure of Czech territory in the months before the outbreak of World War II. source – Washington Times
about 1 day ago - 14 comments
Iran is moving ahead with testing more efficient uranium enrichment technology, a spokesman for its atomic energy agency said on Saturday, in news that may concern world powers who last month agreed a deal to curb Tehran's atomic activities.
Comments are closed.