Syrian Girl Who Watched Parents Murdered Has Heart Cut Out By Obama-Supported Syrian Rebels
Obama using US Taxpayer Money To Fund This
"The sweetest sound I know is the Muslim call to prayer" – Barack Hussein Obama
It is with great sorrow that we had to post this today, but she will have died in vain if we didn't tell the world her sad, horrific story. What you are seeing here is not only the true face of Islam, it goes deeper than that. The Syrian Rebels that did this to her, and to countless others, are supported with US taxpayer dollars by order of president Barack Obama who publicly has declared his support for the Syrian Rebels.
Did you know that? Do you care?
The blood of this little girl is not only on Obama's hands, it is on the hands of America for allowing this president to reign unchecked. And make no mistake about it, the God of Abraham is indeed watching, and will judge.
Their children now, your children tomorrow. The fully male controlled and run Islamic societies are never far from the worse savagery imaginable, making their warlord prophet proud. What happened to the small Shia girl in Syria who were forced to watch her parents being killed that we reported on a few weeks ago?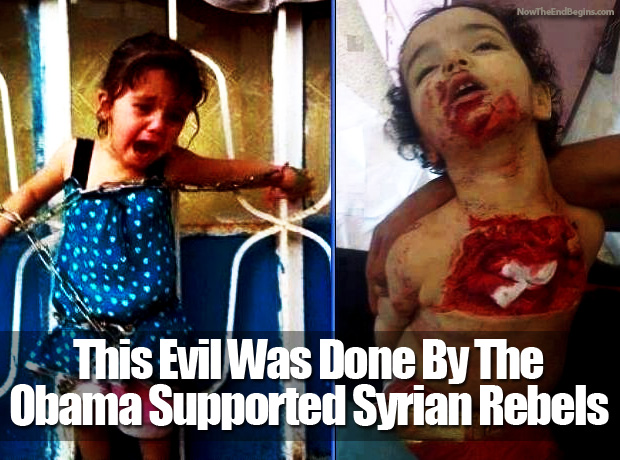 According to Syrian Truth's Facebook page, the photo is of a toddler who was living in the Deir ez-Zor Governate in eastern Syria, bordering Iraq. She was tied up by members of the U.S.-supported "Free Syrian Army" — which is dominated by foreign, Sunni jihadis — and made to watch as her mother and father were killed for being Shia. Here is how the Obama administration is using your tax dollars — mockingly in the name of "freedom."
As you can see her heart has been cut out and stuffed with cloth. No need to speculate what was done to that heart.
Want your tax monies to be supporting Barack Hussein, Francois Hollande and David Cameron's funding of "rebels" (terrorists=devout Muslim savages) in the Saudi, Qatari, Jordan, and Turkey's Sunni genocide of Shia's? source – The Muslim Issue
| | | |
| --- | --- | --- |
| | Print article | This entry was posted by NTEB News Desk on October 15, 2013 at 2:15 pm, and is filed under Christian Persecution, End Times, Hamas, Headline News, Islam, Islamic Terrorism, Israel, Liberals, Middle East, Muslim Brotherhood, Nation Of Islam, Obama, One World Government, One World Religion, Paganism, Prophecy, Psalm 83 War, Secular Humanism, The Day Of The Lord, The God of Abraham, Washington. Follow any responses to this post through RSS 2.0. Both comments and pings are currently closed. |

about 3 days ago - 234 comments
On Sunday evening, starting at 8:45PM EST, our THE WISE SHALL UNDERSTAND Radio Show will be broadcasting live this very important show. There will be a live chat room, a free gospel tract giveaway, and we will be taking your calls and questions all until 11:00PM EST.
Comments are closed.