New USA Today/Pew Poll Shows That America Hates Obamacare
WASHINGTON — Republican lawmakers have failed in dozens of attempts to repeal the Affordable Care Act, but a new USA TODAY/Pew Research Center Poll shows just how difficult they have made it for President Obama's signature legislative achievement to succeed.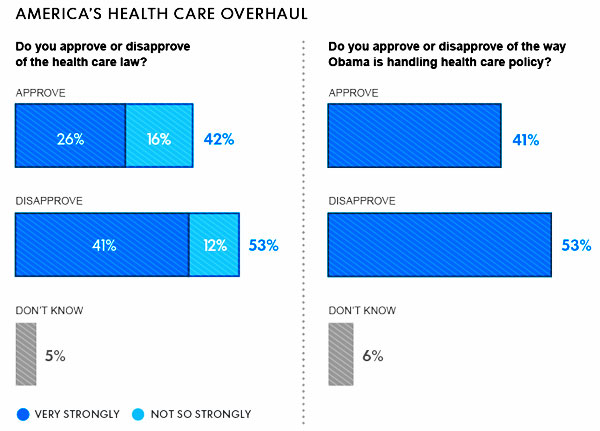 As the health care exchanges at the heart of the law open for enrollment in two weeks, the public's views of it are as negative as they have ever been, and disapproval of the president's handling of health care has hit a new high. Confusion and misinformation about the law haven't significantly abated, especially among the law's main targets.
Among the 19% polled who are uninsured, nearly four in 10 don't realize the law requires them to get health insurance next year. Among young people, whose participation is seen as crucial for the exchanges to work, just 56% realize there's a mandate to be insured or face a fine.
And in the states that have refused to participate in the insurance marketplaces — defaulting instead to the federal exchange — knowledge about the Affordable Care Act and support for it are notably lower than in states that are setting up their own exchanges.
MORE: Pew poll
"There has been a full-court press from Day One from the opposition to characterize and demonize the plan," says Thomas Mann of the Brookings Institution, who wrote about the GOP efforts in a 2012 book about Washington he co-authored, It's Even Worse Than It Looks. "The campaign against the law after it was enacted, the range of steps taken, the effort to delegitimize it — it is unprecedented. We'd probably have to go back to the nullification efforts of the Southern states in the pre-Civil War period to find anything of this intensity."

Opponents say the law's own shortcomings are responsible for its travails. "This program is not ready for prime time," says Rep. Diane Black, R-Tenn., chief sponsor of a bill passed by the U.S. House last week to delay the exchanges until additional anti-fraud measures are put in place. (Like dozens of previous House-passed measures on Obamacare, it isn't expected to pass the Senate.)
STARBUCKS CEO: Health law 'good thing' for the country, he tells Bartiromo
VIDEO: How health care law affects your wallet
When Obama signed the law more than three years ago, supporters predicted Americans would embrace it as some of the most popular provisions went into effect, including measures that have helped seniors pay prescription costs, protected children who have serious medical conditions and enabled young adults to stay on their parents' insurance plans until age 26.
But that turnaround in public opinion hasn't happened, at least not yet. Now the biggest test for the Affordable Care Act looms in two weeks, when the marketplaces for the uninsured are scheduled to open for enrollment on Oct. 1.
In the USA TODAY/Pew poll:
Opposition hits new highs: 53% disapprove of the health care law, the highest level since it was signed; 42% approve. By an even wider margin, intensity favors the opposition; 41% of those surveyed strongly disapprove while just 26% strongly approve. Fifty-three percent disapprove of Obama's handling of health care policy, an historic high. And Democrats have lost their traditional advantage on the issue. For the first time in polling that stretches back more than two decades, Americans narrowly prefer Republicans in dealing with health care policy, 40%-39%.
A boost in approval for the law that followed the Supreme Court decision in July 2012 upholding most of its provisions, to 47% approve-43% disapprove, has disappeared.
Confusion continues: Only one in four say they understand the law's impact on them and their families well while one-third say they have little or no understanding about how the law will work. Despite increasing education efforts by the administration, advocacy groups and some states, the percentage of Americans who don't understand the law has declined only modestly, to 34% from 44%, since it was passed.
Expectations are downbeat: Most haven't seen much impact from the law, but they are inclined to expect bad news down the road. Forty-one percent predict in coming years the effect on themselves and their families will be negative; just 25% think it will be positive. Even more, 47%, say the law will have a negative impact on the country as a whole; 35% expect a positive impact.
The poll of 1,506 adults was taken Sept. 4-8. The margin of error is +/–3 percentage points. source – USA Today

about 14 hours ago - 6 comments
Comments are closed.