An Emboldened Assad Now Barking Orders At Obama
Balance of power in the Mideast has taken a crazy shift
Like some bad reality show spinning out of control, the Obama presidency is being humiliated and disrespected every which way from Sunday. Starting with Putin's viscous smack-down of Obama over military intervention in Syria, it has only grown worse and worse. Now comes the cherry on the sundae – Assad, propped up by big bully Russia, has taken to dismissively ordering Obama and America around through news interviews. Ouch.
And of course, when all the smoke clears, it's always about Israel (see red bold text below)
From Examiner: President Obama must promise not to arm rebel forces or Syrian dictator Bashar Assad will not hand over his chemical weapons, the embattled leader told a Russian state media outlet today while demanding that Israel also surrender its nuclear arsenal.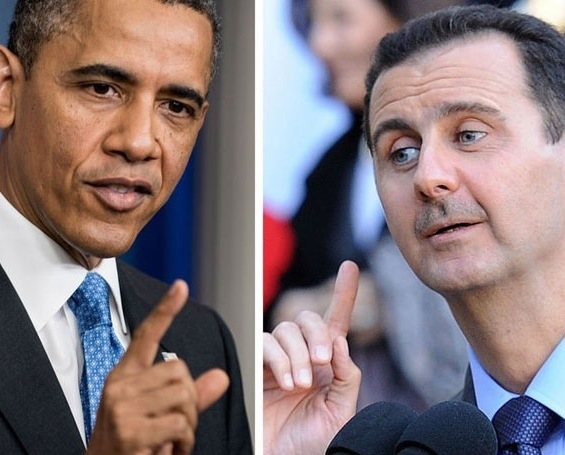 "When we see that the U.S. genuinely stands for stability in our region, stops threatening us with military intervention and stops supplying terrorists with weapons, then we will consider it possible to finalize all necessary procedures and they will become legitimate and acceptable for Syria," Assad told RIA News.
Obama asked Congress to postpone a vote authorizing use of military force in Syria after Russian President Vladimir Putin offered to broker a deal whereby the U.S. would not attack the Assad regime if he surrendered his chemical weapons.
Assad said that the Middle East won't have peace until Israel also surrenders its weapons of mass destruction.

"If we really want stability in the Middle East, all the countries [in the region] must honor the agreements. And the first country to do so is Israel because it possesses nuclear, chemical and biological weapons – all types of weapons of mass destruction," source – Washington Examiner
| | | |
| --- | --- | --- |
| | Print article | This entry was posted by NTEB News Desk on September 12, 2013 at 7:06 pm, and is filed under Al-Qaeda, American Spring, Americanistan, Arab Spring, Conspiracy Theory, End Times, Headline News, Islam, Islamic Terrorism, Jihad Islami, Martial Law, Middle East, Military, Nuclear War, Obama, Politics, Russia. Follow any responses to this post through RSS 2.0. Both comments and pings are currently closed. |

about 4 days ago - 262 comments
On Sunday evening, starting at 8:45PM EST, our THE WISE SHALL UNDERSTAND Radio Show will be broadcasting live this very important show. There will be a live chat room, a free gospel tract giveaway, and we will be taking your calls and questions all until 11:00PM EST.
Comments are closed.