Israel Launches Early Morning Attack On Northern Gaza
The IDF launched an airstrike over the northern area of the Gaza Strip on Wednesday morning, targeting concealed rocket launching sites in northern Gaza, the IDF said in a statement.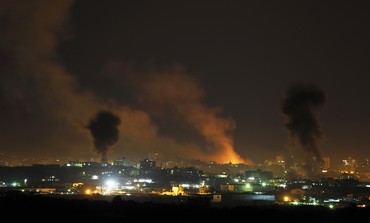 The statement said the IAF attacked during the night in response to two rockets that were fired from the Gaza Strip towards Sderot on Tuesday evening, just as Israel began the release of 26 Palestinian prisoners, 15 of them Gaza-bound.
"The IDF air strikes were conducted in response to the rockets launched at the civilians living in the Sha'ar HaNegev regional council yesterday (Tuesday) evening," it said.
The statement also said that Hamas, who are a known terrorist organization and the governing body of the Gaza Strip, are behind earlier rocket-fire, and the majority of terrorism emanating from the area.
The IDF vowed to "continue to operate in order to safeguard Israel's civilians, and combat terror and its infrastructure the in the Gaza Strip."
One of the rockets launched from within Gaza on Tuesday, fell within the Strip, while the other landed in an open field near Sderot. No one was reported injured.
Later Tuesday night, the Code Red rocket alarm was sounded again in Sderot, and in Sha'ar Hanegev Regional Council, Israel Radio reported.
An IDF spokeswoman said searches were underway for the remains of the projectiles. source- JPost
about 1 day ago - 14 comments
Iran is moving ahead with testing more efficient uranium enrichment technology, a spokesman for its atomic energy agency said on Saturday, in news that may concern world powers who last month agreed a deal to curb Tehran's atomic activities.
Comments are closed.