Obama Continues To 'Reassure America' With Lies About Al-Qaeda
Dreams from al-Qaeda
Is it narcissism, is it insanity, or is it just because he knows that the people who support him are so eager to believe anything he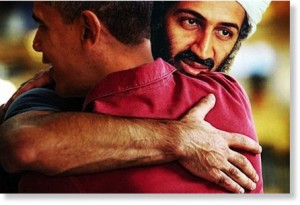 says that truth is no longer even necessary even part of the time? Whatever the case, "Bold Face Liar" Barry Soetoro continues his reign unhindered by factual assertions.
From NRO: In his first press conference in four months, President Obama assured reporters that al-Qaeda terrorists "are less likely to be able to carry out spectacular homeland attacks like 9/11."
The president's statement comes in the midst of concerns about the group's resurgence, which earlier this week prompted the closure of American embassies throughout the Middle East. Non-essential personnel were evacuated earlier today from the American consulate in Lahore, Pakistan.
The president also reiterated that while "core al-Qaeda is on its heels, has been decimated," it has "metastasized" into regional groups that threaten the United States on a smaller scale than the original terror organization. source – NRO
| | | |
| --- | --- | --- |
| | Print article | This entry was posted by NTEB News Desk on August 10, 2013 at 9:49 am, and is filed under Al-Qaeda, American Spring, Americanistan, Arab Spring, Headline News, Islam, Islamic Terrorism, Middle East, Muslim Brotherhood, Nation Of Islam, Obama. Follow any responses to this post through RSS 2.0. Both comments and pings are currently closed. |

about 3 days ago - 224 comments
On Sunday evening, starting at 8:45PM EST, our THE WISE SHALL UNDERSTAND Radio Show will be broadcasting live this very important show. There will be a live chat room, a free gospel tract giveaway, and we will be taking your calls and questions all until 11:00PM EST.
Comments are closed.