SILENCE! Obama Speechless As Dictator Morsi Completes Power Grab
On Monday, President Barack Obama's spokesman distanced the White House from Egypt's democracy advocates who are now protesting an emerging Islamist coup in the country of 72 million people.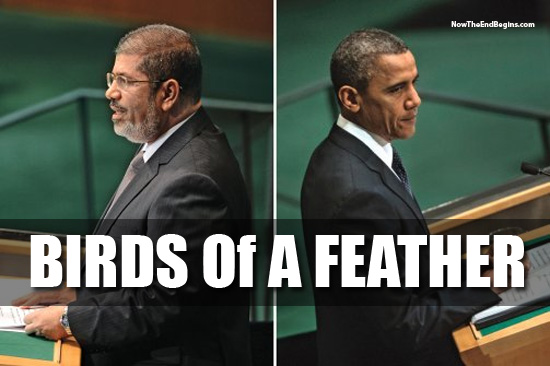 "The transition to democracy will be achieved by the Egyptian people, not by the manner which we raise concerns. … It's important to take a longer view here," spokesman Jay Carney announced at the Nov. 26 daily press conference.
Carney refused to criticize Egypt's Islamist president, Mohamed Morsi, who gave himself dictatorial powers in a Nov. 22 edict.
Obama has not called Morsi, but "we've raised concerns," Carney told reporters at the press event.
"We support democracy, we believe in a government in Egypt ought to reflect the will of the people, and the Egyptian people have to decide what that government will look like," Carney said.
Carney's comments followed appeals from Egypt's democracy advocates for support from the U.S. president.
"I am waiting to see, I hope soon, a very strong statement of condemnation by the U.S., by Europe and by everybody who really cares about human dignity," Mohamed ElBaradei, one of the country's more visible non-Islamist politicians, said Nov. 24.
The surprise crisis began one day after Obama worked with Morsi on Nov. 21 to stop the Israeli counterattack against Hamas' rocket-firing jihadis in Gaza.
"We have decided … [that presidential decisions] are final and binding and cannot be appealed by any way or to any entity," said Morsi's Nov. 22 statute, which also re-assembled the Islamist-dominated parliament that was dissolved in the summer by the judiciary.
Obama was not embarrassed by Morsi's power grab immediately after the imposed ceasefire, Carney said. "We see those as separate issues," he said. source – Daily Caller
| | | |
| --- | --- | --- |
| | Print article | This entry was posted by NTEB News Desk on November 27, 2012 at 4:50 am, and is filed under Arab Spring, End Times, Islam, Islamic Terrorism, Israel, Jihad Islami, Middle East, Muslim Brotherhood, Obama. Follow any responses to this post through RSS 2.0. Both comments and pings are currently closed. |

about 3 weeks ago - 4 comments
Barack Hussein Obama is public enemy #1 of the American people. Obama knew you would not keep your health plan, Obama knew your premiums would skyrocket, Obama was well aware of all the falsehoods and pitfalls of his master scheme to defraud America. He does not need to be brought up on charges of treason, he needs to be escorted out of the White House under armed guard and taken to Gitmo for incarceration.
Comments are closed.