Obama Fires 20,000 Marines, Promises BILLIONS To Muslim 'Green' Groups
The current political winds in Washington, DC, have dictated that less will be spent on the various Branches of the Armed Forces of the Unites States.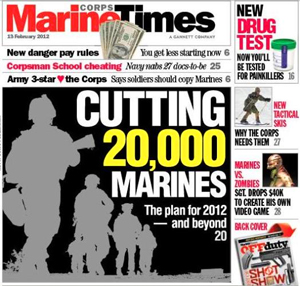 Case in point: the Commander-in-Chief has decided to fire 20,000 of our U.S. Marines.
In an article published by San Diego, California's North County Times, ironically on Thanksgiving Day, Military Affairs reporter Gretel C. Kovach cites;
"The Corps is shrinking by 20,000 Marines, to 182,100."
The North County Times also cited that America's premier fighting force is;
"scraping to repair or replace battle-worn equipment."
In spite of the Nobel Peace Prize award winning Obama ordering a recent surge in combat troops the Afghanistan theater of war, Kovach also pointed out that America's beloved Marine Corps is still to be slashed by roughly 20 percent;
"despite no sign of an enemy collapse."
So What Will The Taxpayers Money Be Spent On?
Earlier this week, Breitbart.com covered the recent agreement Barack Obama has promised billions of Yankee dollars to the oil-rich and overwhelmingly Muslim nations of Indonesia and Brunei.
As reported, $6,000,000,000 worth of American taxes has been promised to the two neighboring nations to promote "green energy."
Many green energy companies in the United States, such as Solyndra and About Solar have been dismal failures despite the over $1,200,000,000 infusion of tax dollars from the Obama Administration. source – Examiner

about 10 months ago - 40 comments
By the authority vested in me as President by the Constitution and the laws of the United States of America, it is hereby ordered as follows: The Federal Government must have the ability to communicate at all times and under all circumstances to carry out its most critical and time sensitive missions. Survivable, resilient, enduring, and effective communications, both domestic and international, are essential to enable the executive branch to communicate within itself and with: the legislative and judicial branches; State, local, territorial, and tribal governments; private sector entities; and the public, allies, and other nations. Such communications must be possible under all circumstances to ensure national security, effectively manage emergencies, and improve national resilience. The views of all levels of government, the private and nonprofit sectors, and the public must inform the development of national security and emergency preparedness (NS/EP) communications policies, programs, and capabilities.