One World Religion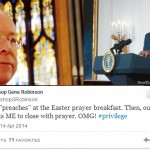 In an amazing slap in the face to bible believing Christians all across the nation, Barack Hussein Obama chose the first openly-gay Episcopal bishop to lead the closing prayer at his 5th Annual White House Easter Prayer Breakfast. Obama has always made a mockery of Christianity, and today's "prayer breakfast" was no different. Perhaps America's president needs a little theology reminder, so here it is:
"For this cause God gave them up unto vile affections: for even their women did change the natural use into that which is against nature: And likewise also the men, leaving the natural use of the woman, burned in their lust one toward another; men with men working that which is unseemly, and receiving in themselves that recompence of their error which was meet." Romans 1:26.27
WASHINGTON, April 14 – President Obama hosted 150 Christian leaders for the fifth annual Easter Prayer Breakfast Monday. The breakfast marks the beginning of Holy Week at the White House, a tradition started by the Obama Administration in 2010 to celebrate the life and death of Jesus Christ.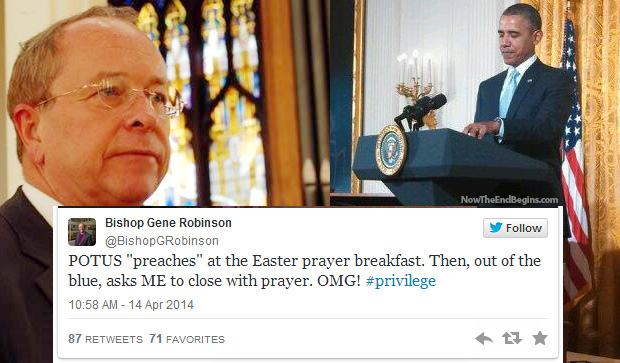 "I want to thank you for your ministries, for your good works, for the marching you do for justice, and dignity and inclusion," Obama told the gathered leaders, before closing with the facetious prayer, "Lord fill my mouth with worthwhile stuff and nudge me when I've said enough."
The president then joked, "The Almighty is nudging me," before sitting down.
Pastor Joel Hunter offered the opening prayer, and the sermon was delivered by Reverend Otis Moss, who replaced the controversial Jeremiah Wright at Chicago's Trinity United Church of Christ. Carlos Whittaker, a Christian singer/songwriter performed.
Then, in an unplanned move, President Obama called on Gene Robinson, the first openly gay Episcopal bishop, to lead the closing prayer. Robinson shared his surprise by tweeting "OMG" along with a picture of the president. source – UPI