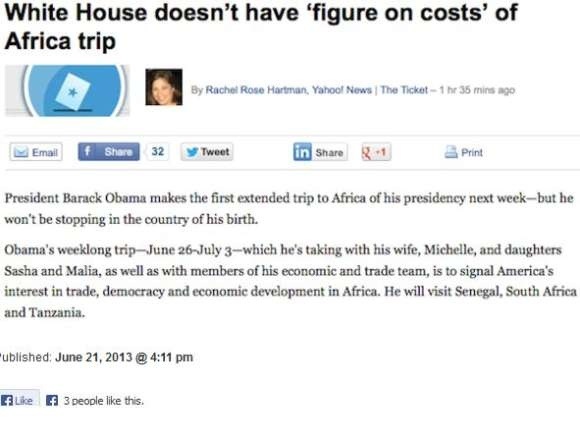 In April 2011, Barack Obama, president of the United States, took the extraordinary step of releasing the long-form version of his birth certificate. As the New York Times wrote at the time, the idea behind the move was "to finally end a long-simmering conspiracy theory among some conservatives who have asserted that he was not born in the United States and was not a legitimate president."
The certificate proved that Obama was born in Hawaii.
Rachel Rose Hartman, a White House reporter for Yahoo! News, couldn't possibly have missed the "birther" story. It was unavoidable, after all, for an unhealthy chunk of the president's first term.
Yet: In her story yesterday on Obama's Africa trip, Hartman managed to say that "he won't be stopping in the country of his birth." From the context of the story, it's clear she was referring to Kenya. source – Washington Post

NTEB is run by end times author and editor-in-chief Geoffrey Grider. Geoffrey runs a successful web design company, and is a full-time minister of the gospel of the Lord Jesus Christ. In addition to running NOW THE END BEGINS, he has a dynamic street preaching outreach and tract ministry team in Saint Augustine, FL.