Posts tagged
Steve Quayle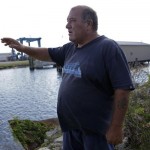 As in the days of Noah
In the bible, Jesus gives us a warning of what life would be like in the time of the end. He said it would be "as it was in the days of Noah'. Have you ever read Genesis 6 to see just exactly what "those days" were like?
"There were giants in the earth in those days; and also after that, when the sons of God came in unto the daughters of men, and they bare children to them, the same became mighty men which were of old, men of renown. And GOD saw that the wickedness of man was great in the earth, and that every imagination of the thoughts of his heart was only evil continually…And the LORD said, I will destroy man whom I have created from the face of the earth; both man, and beast, and the creeping thing, and the fowls of the air; for it repenteth me that I have made them." Genesis 6
Fallen angels had mated with human women and created a race of wicked giants known as nephilim. So is it any wonder that in our day, the end times, we hear story after story of UFO's and alien abductions?
PASCAGOULA, Miss. (AP) — Charles Hickson never regretted the notoriety that came his way after he told authorities he encountered an unidentified flying object and its occupants 40 years ago on the banks of the Pascagoula River. Until his death in 2011, Hickson told his story to anyone who would listen.
But Calvin Parker Jr., the other man present for one of the most high-profile UFO cases in American history, has never come to terms with what he still says was a visit with gray, crab-clawed creatures from somewhere else. He says the encounter on Oct. 11, 1973, turned his life upside down.
"This is something I really didn't want to happen," Parker told The Associated Press as the 40th anniversary of the encounter approached.
Parker was unnerved by initial crush of unwelcome attention, with newsmen and UFO enthusiasts overrunning Walker Shipyard, where he and Hickson worked. He tried to dodge the spotlight for decades, moving frequently before returning to Mississippi's Gulf Coast in recent years.
The incident made headlines, sparked a wave of UFO sightings nationwide and became one of the most widely examined cases on record. Skeptics ranged from the deputies who first interviewed the men to an author who sought to poke holes in the story, and Parker himself has had conflicting thoughts about whether he was visited by aliens or demons.read the rest of the story on Yahoo News