Posts tagged
unions

In the Navy
NTEB was one of the first to bring you the story of the Navy allowing same-sex marriages on naval bases in states where gay union was allowed. Well, it seems that now that the story has gotten some notice, that a lot of people really don't think it's a good idea. I guess that's one of the main reason we run stories like this.
"WASHINGTON — Under pressure from more than five dozen House lawmakers, the Navy late Tuesday abruptly reversed its decision that would have allowed chaplains to perform same-sex unions if the Pentagon decides to recognize openly gay military service later this year.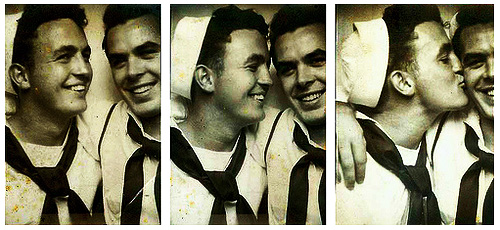 In a one-sentence memo obtained by The Associated Press, Rear Adm. Mark Tidd, chief of Navy chaplains, said his earlier decision has been "suspended until further notice pending additional legal and policy review and interdepartmental coordination."
The Navy said its lawyers wanted to do a more thorough review of the legal decision that allowed Navy chaplains to receive training to perform civil unions on military bases, but only in states where it is legal
Military training to apply the new law allowing gays to serve openly began earlier this year and is expected to be completed by midsummer.
House members wrote to Navy Secretary Ray Mabus to object to the Navy's initial ruling, saying the service was violating the 1996 Defense of Marriage Act by appearing to recognize and support same-sex marriages.
That law defines marriage as only between a man and a woman, and it also says states don't have to recognize gay marriages performed in other states where they are legal.
"We find it unconscionable that the United States Navy, a federal entity sworn to preserve and protect the Constitution of the United States, believes it is their place alone to train and direct service members to violate federal law," said the lawmakers' letter, which was signed by 63 House members." source – MSNBC
Click here to read about the plan by Progressives to destroy our military…

Public workers enraged after Walker's proposal gains State Assembly approval
Wisconsin Governor Scott Walker continues to ignite a fury of protests in Madison, with his bill that will remove collective bargaining rights from unionized public-sector employees. Thousands gathered today despite frigid temperatures, to march on the State Capitol and voice their anger with the Governor. Rallies in support of Wisconsin workers were held in other cities across the country, with some of the largest in Chicago, Columbus, Ohio, and Salt Lake City.
Even though they are excluded from the current proposal, hundreds of off-duty police officers joined the march on the State Capitol to show support for the near 170,000 public employees that will be affected by the bill.
Richard Daley, 62, of Green Bay, who retired from the Madison Police Department after 20 years on the force, came back to Madison today "supporting the fact that we all see this as union busting and wage suppression. This is a long-term, downward spiral of wages for working families.
Wausau police Detective Cord Buckner, 42, stoically stood in the cold with an American flag wrapped around his face and holding a "Cops for Labor" sign as thousands of demonstrators marched around the Capitol. "The aggregate effect on public employees will affect police unions eventually," Buckner said.  source: USA Today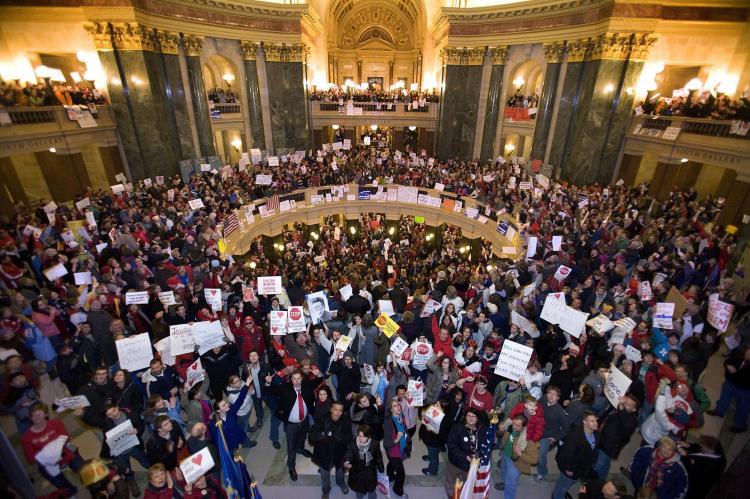 "Hey hey, ho ho, Scott Walker has got to go."
(Reuters) – Thousands of people rallied in cities across the United States on Saturday against a Wisconsin plan to curb the power of public sector unions that has sparked similar government efforts in other states.The Saturday protests take place in a different context than previous rallies, after the controversial proposal passed the state Assembly on Friday, testing the resolve of a movement that has so far been remarkably peaceful.
The bid by Wisconsin Republicans to try and balance the state budget by rewriting labor laws has turned into a national standoff with Republicans and business interests on one side, and Democrats and union groups on the other
Backers of the bill won a major victory early Friday with state Assembly approval of the union bill. The bill has now moved to the state Senate where it is stalled because the 14 Democrats fled to Illinois to deny a quorum for a vote.
People in the state capital of Madison, which is home to unionized state government agencies and the University of Wisconsin, are overwhelmingly opposed to the governor's plan. But Republicans said they believe there is a silent majority who voted Walker into office, and support the efforts.  source: Reuters
The Big Labor debate
President Obama has openly supported the protesters in Wisconsin, accusing Governor Walker of unleashing an "assault" on union labor, and Nancy Pelosi has also voiced her support. Republicans and Tea Party members are encouraged by Governor Walker's bill and would like to see the power of Big Labor decrease across the nation. The war has begun, and Wisconsin is just the first battle. The nation must decide upon the level of control that unions will maintain in America, and many states will undoubtedly work to free themselves from the stranglehold that public workers have on state economies. How much will private-sector employees continue to suffer and bare the brunt of this bad economy, as public-sector workers are not only shielded, but are constantly demanding more? Only time will tell, but it will certainly be a rough road ahead.