Posts tagged
Occupy Oakland
Obama's view on the rioters: "Obama said the most important thing he can do as president is express solidarity with the protesters and redouble his commitment to achieving what he described as a more egalitarian society." source – ABC News
Peaceful youth movement for change?
A day that is expected to be filled with anti-establishment protests all around the globe began early last night with a roving band of "anarchists" smashing car windows and store fronts in San Francisco's Mission District. The mini-riot (which was technically on April 30, but still) may have started as a "ruckus street party" organized by Occupy Oakland protesters who invaded their sister city last night, but whoever was responsible appeared to show little regard for the property of either the 1% or the other 99.
Various witness accounts say a group of between 50 and 100 people moved down Valencia St. smashing windows, throwing paint balls, and even attacking an unsuspecting police station.
The cops were apparently not prepared to make mass arrests and were slow to respond to the chaos, though it quickly broke up. The blog, Mission Local, has a good round up of the scene from last night.
Tensions are likely to be pretty high, especially in New York City, were some leading organizers were reportedly visited at home by New York police and FBI agents yesterday who interviewed them about their plans. (The high temperatures and 80% chance of rain won't help either.) 
It remains to be seen if other May Day events will encounter problems like we saw in San Francisco last night, but the NYPD is obviously expecting some trouble and will likely be better prepared for it than most police forces.
Anarchists or no anarchists, we've all seen how quickly a peaceful protest can turn violent. source – Yahoo News
"Let them all be confounded and turned back that hate Zion." Psalm 129:5
Occupy Oakland demonstrators plan to hold a major "unwelcoming" of Israeli President Shimon Peres Tuesday during his visit to a San Francisco synagogue.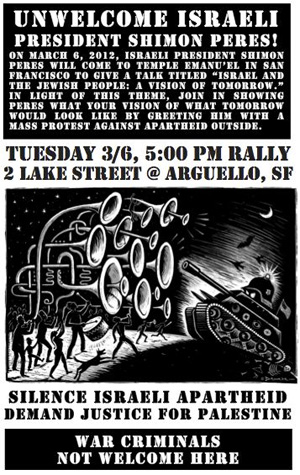 "Israeli President Shimon Peres will come to Temple Emanu-El in San Francisco to give a talk titled 'Israel and the Jewish People: A Vision of Tomorrow,'" Occupy Oakland announced in a post on its website Sunday. "In light of this theme, we want to show Peres what our vision of tomorrow would look like by warmly greeting him with a mass protest against apartheid outside of the temple."
Peres, Occupy Oakland charges, has "signed into law racist and colonialist legislation" and "a series of laws and amendments disenfranchising and ethnically cleansing Palestinians from their land" The group also blasts him for including former President George W. Bush, former Israeli Prime Minister Ehud Olmert, Ruport Murdoch and Henry Kissinger in his annual Israeli Presidential Conference, calling them "guilty of collaboration with the apartheid regime":
Shimon Peres serves the wealthy colonial elite and the settler state of Israel. Peres tours the world speaking on behalf of Jewish people, co-opting the history of the Holocaust. At the same time, he has on his conscience a massive arms trade and racist laws which advance the ethnic cleansing and genocide of Palestinian peoples. His very presence at a synagogue in San Francisco normalizes settler colonialism here and in Israel, connecting two settler states in the name of Judaism and an imperial and colonial "vision of tomorrow."
To contest the normalization and cultural violence of this event, a number of Bay Area activists, including the proposers, are organizing a protest outside of the synagogue on March 6, 2012 at 6:30 PM. This proposal does not seek to create a formal Occupy Oakland working group, but does not oppose this, and will participate if one is formed.
We ask Occupy Oakland to take a stand against apartheid and settler colonialism by endorsing, participating in, and helping plan this action. We hope Occupy Oakland will help think up and enact creative ways for us to show Peres that he is not welcome to promote apartheid and colonialism in the already colonized Bay Area.
The group's announcement ended with a note of caution, saying: "organizers of this demonstration are committed to anti-oppression principles and will not be represented by any oppressive language or behavior at the demonstration, which includes anti-Jewish racism." source – The Blaze