Posts tagged
Nuclear Strike On USA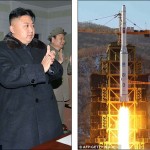 North Korea today vowed to launch a pre-emptive nuclear strike against the United States in retaliation for a new sanctions against the rogue communist state currently being considered by the United Nations.
North Korea state media warned of a 'thermonuclear war' as an unidentified spokesman for Pyongyang's Foreign Ministry said the North will exercise its right for 'pre-emptive nuclear strikes on the headquarters of the aggressors' because Washington is pushing to start a nuclear war against the North.
The U.N. Security Council is set to impose a fourth round of sanctions against Pyongyang in a fresh attempt to rein in its nuclear and ballistic missile programs.
After Tuesday's announcement over the end of the 1953 armistice ending the Korean War, the North Korean state newspaper Rodong Sinmun, said: 'With the armistice nullified, it would be no surprise if a global thermonuclear war breaks out.'
Although North Korea boasts of nuclear bombs and pre-emptive strikes, it is not thought to have mastered the ability to produce a warhead small enough to put on a missile capable of reaching the U.S. It is believed to have enough nuclear fuel, however, for a handful of crude nuclear devices.
North Korea claims Washington and others are going beyond mere economic sanctions and expanding into blunt aggression and military acts.
'We aim to launch surgical strikes at any time and any target without being bounded by the armistice accord and advance our long-cherished wish for national unification,' the country said in a statement.The pariah state also warned that it will block a communications line between it and the United States at the border village separating the two Koreas.The warning came after North Korea warned the top American commander in South Korea of 'miserable destruction' if the U.S. military presses ahead with routine joint drills with South Korea set to begin next month.Pak Rim Su, chief of North Korea's military delegation to the truce village of Panmunjom inside the Demilitarized Zone, sent the warning this morning to Gen. James Thurman, in a rare direct message to the U.S. commander. Washington stations 28,500 American troops in South Korea to protect its ally against North Korean aggression.
South Korea and the U.S. regularly conduct joint drills such as the Key Resolve and Foal Eagle exercises slated to take place next month. North Korea calls the drills proof of U.S. hostility, and accuses Washington of practicing for an invasion.
'You had better bear in mind that those igniting a war are destined to meet a miserable destruction,' KCNA quoted Pak as saying in his message to Thurman. He called the drills 'reckless'. source – Daily Mail UK