Posts tagged
message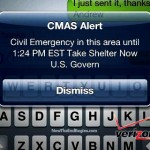 TRENTON, N.J. (CBSNewYork) — Verizon has issued an apology after sending out an alarming text message to New Jersey residents.
State police say the bogus text urging people to "take shelter before 1:24 p.m." was sent out at 12:26 p.m. Monday to residents in Middlesex, Monmouth, Morris and Ocean counties.
Monmouth County Sheriff Shaun Golden said the message was marked as an "extreme alert" stating there was a "civil emergency" in the area.
"We did see quite a spike in 911 calls going into our sheriff's office communication center," Golden told 1010 WINS.
Verizon said the alert was supposed to say "test message." Residents have been told to ignore the alert.
"This test message was not clearly identified as a test," the company said in a statement. "We apologize for any inconvenience or concern this message may have caused."
Homeland Security immediately put out word on Twitter that there was no civil emergency. source – CBS NY