Posts tagged
Larry Hall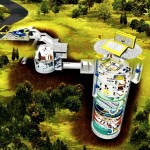 Doomsday Preppers
So far, four buyers have thrown down a total of about $7 million for havens to flee to when disaster happens or the end is nigh. And developer Larry Hall has options to retro-fit three more Cold War-era silos when this one fills up.
Hall said: 'They worry about events ranging from solar flares, to economic collapse, to pandemics to terrorism to food shortages.'
These 'doomsday preppers', as they are called, want a safe place and he will be there with them because Hall, 55, bought one of the condos for himself. He says his fear is that sun flares could wipe out the power grid and cause chaos.
He and his wife and son live in Denver and will use their condo mostly as a vacation home, he says, but if the grid goes, they will be ready. Hall isn't the first person to buy an abandoned nuclear missile silo and transform at least part of it into a shelter.
Built to withstand an atomic blast, even the most paranoid can find comfort inside concrete walls that are nine feet thick and stretch 174 feet (53 meters) underground.
Instead of simply setting up shop in the old living quarters provided for missile operators, Hall is building condos right up the missile shaft.
Seven of the 14 underground floors will be condo space selling for $2 million a floor or $1 million a half floor. Three and a half units have been sold, two contracts are pending and only two more full units are available, Hall said.
For now, metal stairs stretch down to connect each floor but an elevator will later replace them. The units are within a steel and concrete core inside the original thick concrete, which makes them better able to withstand earthquakes. source – Daily Mail UK