Posts tagged
ernie
And then judgment fell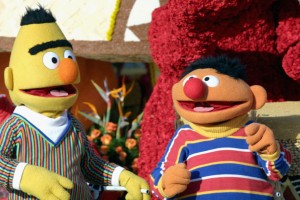 On the surface, what you are about to read, to me, is comical. A group that wants Sesame Street's Bert and Ernie to 'come out of the closet'.  But the reason why it's really not so funny is that it shows the level to which we are proud to display the behavior that got Sodom and Gomorrah torched to the ground and killed everyone in it. Think about that.
LOS ANGELES (CBS) — Will the Children's Television Workshop give way to same-sex puppet love?
An online campaign is calling for the producers of TV's "Sesame Street" to allow characters Bert and Ernie to get married in an attempt to "put an end to the bullying and suicides of LGBT youth", according to the group's Facebook page.
The petition letter adds that "[w]e are not asking that Sesame Street do anything crude or disrespectful by allowing Bert & Ernie to marry", suggesting that the show "even add a transgender character to the show…in a tasteful way".
While over 900 people have "liked" the group's Facebook page so far, the comments from visitors are fueling the controversy over whether children should be exposed to homosexuality at such an early age — echoing a similar battle over proposed gay-oriented curriculum in California schools. The group's Facebook page also includes a photo mocking Christians for their opposition to homosexuality and same-sex marriage. source – CBS