Posts tagged
Electronic Frontier Foundation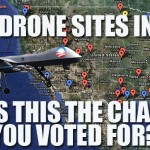 Hopeless Change
There are at least 63 active drone sites around the U.S, federal authorities have been forced to reveal following a landmark Freedom of Information lawsuit. The unmanned planes – some of which may have been designed to kill terror suspects – are being launched from locations in 20 states.
Most of the active drones are deployed from military installations, enforcement agencies and border patrol teams, according to the Federal Aviation Authority. But, astonishingly, 19 universities and colleges are also registered as owners of what are officially known as unmanned aerial vehicles.
It is thought that many of institutions, which include Cornell, the University of Colorado, Georgia Tech, and Eastern Gateway Community College, are developing drone technology.
The authority revealed the information after a Freedom of Information Act lawsuit by Electronic Frontier Foundation. Its website hosts an interactive map that allows the user to zoom in to the area around where they live to see if any sites are nearby.
However, the FAA is yet to reveal what kinds of drones might be based at any of these locations. The agency says it will release this data later.
Most of the drones are likely to be small craft, such as the Draganflyer X8, which can carry a payload of only 2.2lb. Police, border patrols and environmental agencies, such as the National Oceanic and Atmospheric Administration (NOAA), could use for them effectively.
While few would object to vast open areas being monitored for wildfires, there are fears of privacy violations if drones are used to spy over cities. Other drones – likely to be operated only by the armed forces – might include the MQ-9 Reaper and the MQ-1 Predator, which was used to kill American Al Qaeda boss Anwar al-Awlaki in Yemen last September. source – Daily Mail UK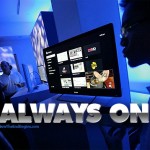 Building the Mark of the Beast system
RELATED STORY: The Mark of the Beast
RELATED SOCIAL: The 666 Surveillance System
When people download a film from Netflix to a flatscreen, or turn on web radio, they could be alerting unwanted watchers to exactly what they are doing and where they are.
Spies will no longer have to plant bugs in your home – the rise of 'connected' gadgets controlled by apps will mean that people 'bug' their own homes, says CIA director David Petraeus.
The CIA claims it will be able to 'read' these devices via the internet – and perhaps even via radio waves from outside the home.
Everything from remote controls to clock radios can now be controlled via apps – and chip company ARM recently unveiled low-powered, cheaper chips which will be used in everything from fridges and ovens to doorbells.
The resultant chorus of 'connected' gadgets will be able to be read like a book – and even remote-controlled, according to CIA Director David Petraeus, according to a recent report by Wired's 'Danger Room' blog.
Petraeus says that web-connected gadgets will 'transform' the art of spying – allowing spies to monitor people automatically without planting bugs, breaking and entering or even donning a tuxedo to infiltrate a dinner party.
'Transformational' is an overused word, but I do believe it properly applies to these technologies,' said Petraeus.
'Particularly to their effect on clandestine tradecraft. Items of interest will be located, identified, monitored, and remotely controlled through technologies such as radio-frequency identification, sensor networks, tiny embedded servers, and energy harvesters -  all connected to the next-generation internet using abundant, low-cost, and high-power computing.'
Petraeus was speaking to a venture capital firm about new technologies which aim to add processors and web connections to previously  'dumb' home appliances such as fridges, ovens and lighting systems.
This week, one of the world's biggest chip companies, ARM, has unveiled a new processor built to work inside 'connected' white goods.
The ARM chips are smaller, lower-powered and far cheaper than previous processors – and designed to add the internet to almost every kind of electrical appliance.  It's a concept described as the 'internet of things'.
Futurists think that one day 'connected' devices will tell the internet where they are and what they are doing at all times – and will be mapped by computers as precisely as Google Maps charts the physical landscape now.
Privacy groups such as the Electronic Frontier Foundation have warned of how information such as geolocation data can be misused – but as more and more devices connect, it's clear that opportunities for surveillance will multiply. source – Daily Mail UK