Posts tagged
Aleppo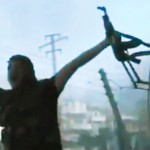 Fierce clashes intensified in Syria's commercial capital of Aleppo on Tuesday as the government unleashed air attacks on rebellious neighborhoods, while activists claimed opposition fighters had control over several neighborhoods in the city.
Government helicopter gunships attacked Aleppo, the Local Coordination Committees, a network of on-the-ground activists, told NBC News. The Associated Press reported that warplanes circled in the air around the city, while the British Broadcasting Corp., citing one of its reporters near the area, said that fighter jets had bombed eastern parts of Aleppo.
With sequential rebel attacks on the country's two largest cities and a bombing that wiped out some of his top security advisors, President Bashar Assad reshuffled his top security posts, dismissing one general and appointing a national security council chief to replace the one killed in the recent attack. 
Syria's rebels, outmanned and outgunned by the regime's professional army, have mounted a surprising pair of offensives over the last 10 days against the country's two major cities — Damascus and Aleppo. Even as the government appears to have snuffed out most of the rebel pockets in the capital, the rebels appear to be fight fiercely in the commercial hub of Aleppo in the north.
The government has instituted tight restrictions on outside news outlets working in Syria, making it difficult to verify many reports from inside the country.
Israel, which has publicly discussed military action to prevent Syrian chemical weapons or missiles from reaching Assad's Lebanese Shiite militant allies Hezbollah, said there was no sign any such diversion had occurred.
"At the moment, the entire non-conventional weapons system is under the full control of the regime," a senior Israeli defense official, Amos Gilad, told Israel Radio.
Syrian Foreign Ministry spokesman Jihad Makdissi said the army would not use chemical weapons to crush rebels but could use them against forces from outside the country.
The Global Security website, which collects published intelligence reports and other data, says there are four suspected chemical weapons sites in Syria: north of Damascus, near Homs, in Hama and near the Mediterranean port of Latakia. Weapons it produces include the nerve agents VX, sarin and tabun, it said, without citing its sources. source – NBC News