A request by Green Bay Packers players for fans to join them in a show of unity during the national anthem before their game Thursday apparently did little to calm the debate.
EDITOR'S NOTE: As tens of thousands of outraged NFL fans burn their jerseys and rip up season tickets, the NFL has hit upon a new way to try and stop the damage. Their new plan is to invite the fans to join the players in disrespecting our flag and National Anthem. Umm, sorry snowflakes, but do you really think the fans who fund your crybaby millionaire lifestyle are that stupid and that anti-American like you are? This battle to destroy our country follows the classic Progressive Alt-Left agenda to divide and conquer. That's what they are really inviting the fans to do. 
Packers fans on Wednesday continued to blast the NFL, the team and players for what they perceive as showing disrespect for the nation, the flag, the military or the national anthem by sitting, kneeling, remaining in the locker room or locking arms during the national anthem. Supporters say players are peacefully exercising their free speech rights on the best stage available.
"We've had a steady stream of feedback beginning Monday morning and it continued into Wednesday. We've heard on both sides of the matter," said Aaron Popkey, Packers director of public affairs. "We take note of their concerns."
Steelers Protest Anthem/Burning Gear/Boycott Part 1
The Packers play the Chicago Bears at 7:30 p.m. Thursday in a nationally televised game that follows a weekend when all but one NFL team staged some show of unity or protest. The issue escalated after President Donald Trump urged owners to discipline players who sit or kneel during the national anthem.
President Trump criticizes the NFL:
"Wouldn't you love to see one of these NFL owners, when somebody disrespects our flag, to say, 'Get that son of a bitch off the field right now. Out! He's fired," Trump said during a campaign rally last week for Sen. Luther Strange, R-Alabama.
Before Trump's comments, only a handful of players across the league protested during the national anthem.
See how your former favorite team is choosing to disrespect the flag: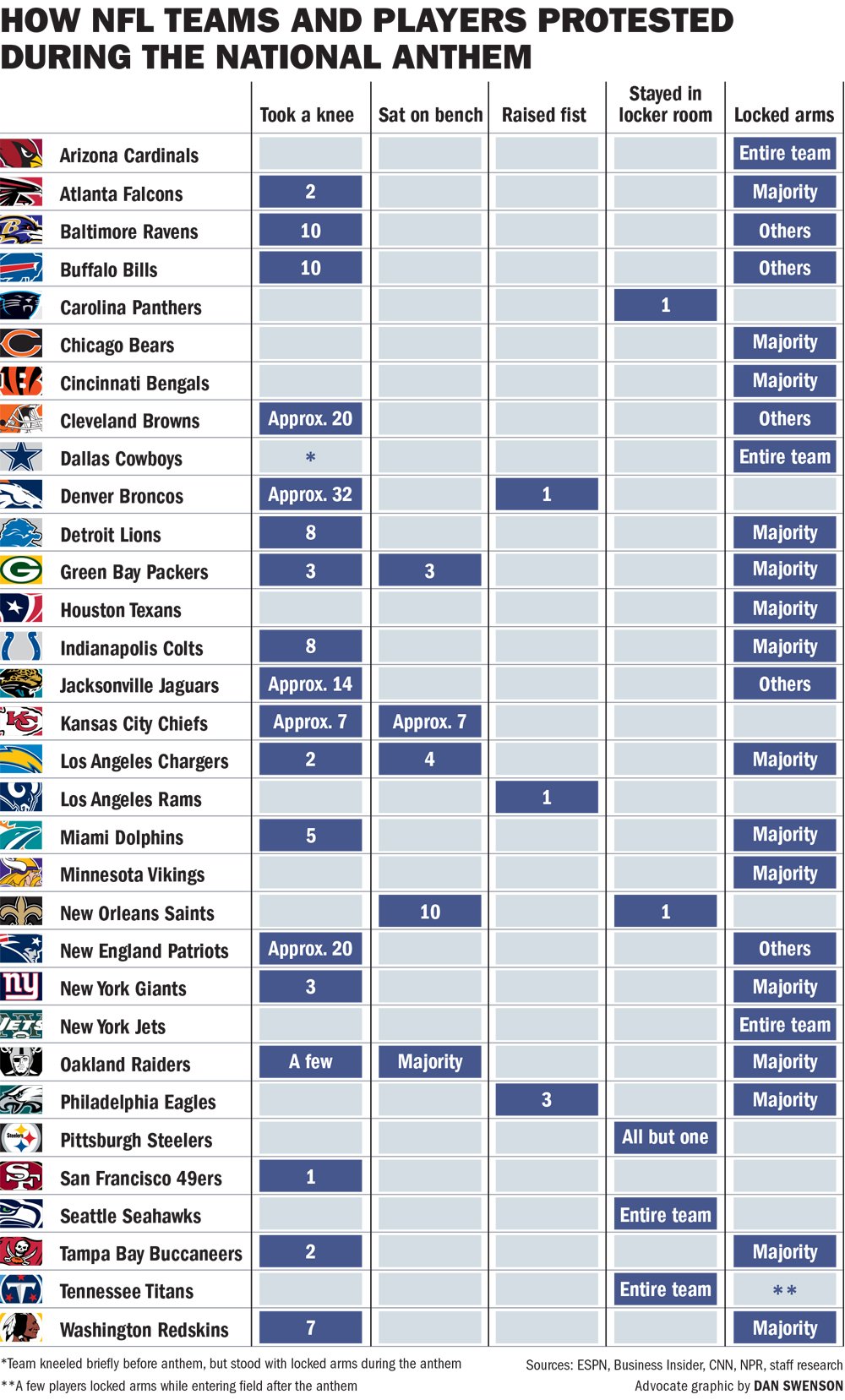 The show of unity seemed to be as much a response to the president's comments as to the concern for racial equality that prompted then-49ers quarterback Colin Kaepernick to launch that form of protest last season. But as with fans, personal reasons varied for NFL owners, coaches and players to join in demonstrations of unity and support.
On Sunday, most of the Packers locked arms during the national anthem and three sat through the song. Players on Tuesday invited fans at Thursday's game to join them in locking arms in a show of unity.
But unity could prove elusive.
"I am so ashamed of and appalled by the ignorance of any NFL player who would dare disgrace our Stars and Stripes or the memory of hundreds of thousands of fallen U.S. heroes who paid with their lives so that we may live free," said Steven Tiefenthaler, a native of Brookfield who now lives in San Antonio. Tiefenthaler is a Packers shareholder and 20-year U.S. Air Force veteran.
Tiefenthaler said he was humbled by once flying the remains of American servicemen to the states, an experience that stays with him.
"My allegiance to our American flag and to our national anthem will always stand far above any loyalty to the NFL or to the Green Bay Packers organization," he said.
Laura Hapke, a La Crosse native now living in Orange, Calif., said the Packers were the last team she expected to do what they did Sunday. Hapke meets with other Packers fans each week to watch the game. Her mother is a shareholder and she's on the season-ticket waiting list. In other words, she's a diehard fan.
"If they come out and say they are more into politics than patriotism, I'll have to rethink it," she said. "It will break my heart, but I'll have to rethink it." source
---