Posts tagged
tim tebow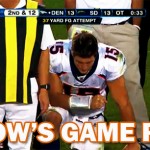 Praying though
"Iron sharpeneth iron; so a man sharpeneth the countenance of his friend." Proverbs 27:17
The Mile High Miracle is not about football, it's about a man. Jesus Christ.
"SAN DIEGO — On Saturday, Denver quarterback Tim Tebow stood in front of his teammates, both offense and defense, to deliver a message that resonated deep into Sunday evening, long after the Broncos battled it out with the Chargers in overtime for a fifth consecutive win.
It was another quote from the Bible, another expression of his religion that many of his critics seem to believe borders on overly pious devotion.
"As iron sharpens iron, men sharpen men," Tebow told the group, loosely quoting Proverbs 27:17.
Do Tebow's constant references to his Christianity still bother you? Maybe they do. And that's your prerogative. For what it's worth, linebacker Von Miller, the havoc-wreaking rookie with 10.5 sacks who is among the biggest reasons for Tebow's recent success, was inspired by that quote.
"What he said really stuck with me," said Miller as he walked toward the team bus. "Just having that guy around, it makes us better men. I think he plays for us, and he makes us want to play for him."
But this ongoing debate isn't just about the things Tebow says. It is about the way Tebow plays. On Sunday, as has been the case more often than not during his five wins, Tebow started slow. He was 0-for-3 passing after the first quarter, and by the end of regulation in a 16-13 overtime win, he'd completed just over 50 percent of his passes.
It wasn't until Denver's defense forced San Diego to punt in overtime, not until a wide-right kick by Nick Novak then provided renewed life, that Tebow took advantage of his third overtime possession to get his kicker into range for the game-winning boot.
Tebow, of course, got loads of credit.
Does that bother you, too? Is it irritating to hear those cheers still directed at No. 15 after all of that help? For what it's worth, safety Brian Dawkins, an eight-time Pro Bowl selection who started his NFL career when Tebow was nine years old, prefers it that way. After the game, when a reporter said, "It's time to start giving the defense credit," Dawkins politely but bluntly cut him off.
"No, you can continue to talk about the offense; continue to talk about those guys," Dawkins said. "To be honest with you, we don't care. We're going to do our part, and as long as they continue to pull out victories and lead game-winning drives, I don't really care who gets the credit."
Tebow's teammates are relentlessly supporting his cause, and if they're inspired by his leadership, then who else matters? If they don't mind the credit he gets, then why should anyone else?
In Denver's locker room, where the loyalty to Tebow is growing stronger with each win, you don't hear the questions. You don't hear debates. Or the long-term wonders. You only hear the celebrations, which these days seem to be drowning out the doubts more audibly by the day. Nobody can say with certainty where this road will lead. But the Broncos, each one helping to sharpen the other in his own productive way, seem very clear about their desire to keep enjoying the ride." source – NFL