Posts tagged
spending
Treating America as their own personal ATM
The unabashed luxuriousness of the Obamas' lifestyle reflects a genuine tone-deafness with regard to the pressing concerns of millions of Americans, as well as the president's priorities. Even as he blamed sequestration for the decision to cancel White House tours that would have cost a total of $2 million for the rest of the year, it was revealed that the known cost of Obama's Christmas vacation in Hawaii last year was at least $4 million.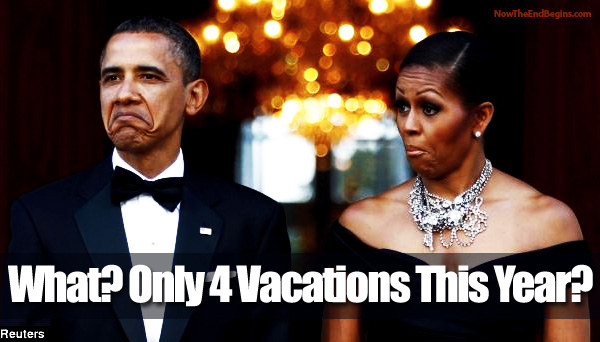 That vacation was also the fourth one taken in Hawaii in four years, three of which involved separate flights First Lady Michelle Obama took to get there ahead of her husband. This year's separate flight, necessitated by the president's trip back to Washington to complete the fiscal cliff deal before returning to Honolulu, cost taxpayers an additional $3.24, and ran the total tab for the 2012-13 trip to more than $7 million.
The total for the four trips combined? More than $20 million.
However, holiday vacations to Hawaii hardly scratch the surface. These vacations were also interspersed with trips to locales like Florida or Southern California. In addition, the president's "mini-vacations" have raised eyebrows. His three-day golf outing at an exclusive club in Florida, where he was joined by Tiger Woods, occurred less than two weeks before the sequester kicked in — even as the White House Blog raised the specter of "harmful automatic cuts" that are "threatening hundreds of thousands of jobs, and cutting vital services for children, seniors, people with mental illness and our men and women in uniform."
Senator Jeff Sessions (R-AL) put that trip in perspective, noting that it cost American taxpayers "over a million dollars," which was "enough money to save 341 federal workers from furlough." The rest of the family was on vacation in Colorado at the time, meaning taxpayers are billed for yet another separate use of Air Force One, which costs approximately $180,000 an hour to use. This marks the fourth Colorado ski vacation in four years for the First Lady and and her daughters, Malia and Sasha. Judicial Watch confirmed that the cost of 2012 trip, including U.S. Secret Service costs, as well as accommodations at the Fasching Haus deluxe condominium and the Inn at Aspen, totaled $48,950.38. source – Front Page
From Washington Examiner: First Lady Michelle Obama on Tuesday described living in the White House as like being in a "really nice prison." Obama's comment came during her discussion with former First Lady Laura Bush at the African First Ladies Summit in Tanzania during an interview moderated by journalist Cokie Roberts.
Roberts noted that Martha Washington, the first First Lady, also described living in the role as akin to being a state prisoner.
Obama said she loved her job and found it liberating in some respects, but confining in others.
"There are some prison elements to it," she joked. "But it's a really nice prison."
Former first lady Laura Bush reminded the crowd that First Ladies had a chef.
"You can't complain," Michelle Obama admitted. "But there is definitely elements that are confining." source – Washington Examiner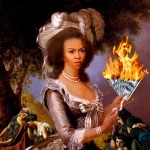 She spends like the American Queen, not First Lady
First Lady Michelle Obama's trip to South Africa and Botswana last week cost taxpayers well over half a million dollars, possibly in the range of $700,000 or $800,000, according to an analysis by White House Dossier.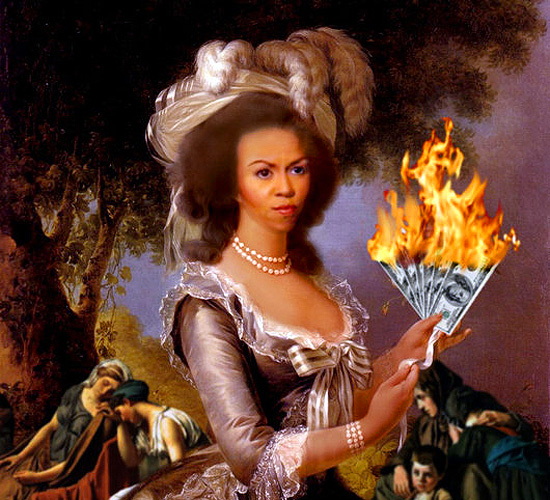 Many of the trip's expenses cannot be obtained with specificity, including the cost of local transportation for the first lady, Secret Service protection, the care and feeding of staffers, and pre-trip advance work done by administration officials in South Africa.
But it is possible to estimate some of these costs and put a price tag on one of the major expenses – her transportation to and from southern Africa and her trips between cities there.
While the goals of her journey – "youth leadership, education, health and wellness" in southern Africa, according to the White House – are laudable, many may question whether such an expensive outreach overseas by the president's wife is worthwhile given the threat of the ballooning federal debt to the economy.
This is particularly true given that the trip, while featuring many official events, also included tourist components such as visits to historical landmarks and museums, a nonworking chance to meet Nelson Mandela that Mrs. Obama described as "surreal," and a safari. Mrs. Obama also brought along her mother, her daughters and two of their cousins – the children of her brother Craig Robinson.
In a conversation last week with a South African online newspaper, U.S. Embassy Spokeswoman Elizabeth Trudeau made clear that the trip was partially a personal pilgrimage for the first lady.
"She's coming on this trip to talk about women's development and youth development, and South Africa is a leader in that, not only on the continent but globally," said Trudeau. "A visit to South Africa is important for them as a family. She'll be visiting many Struggle-era landmarks, including the Apartheid Museum (and) the Hector Pieterson Memorial."
Based on the plane's tail number and a description of it in a press pool report, it's clear Mrs. Obama flew over and back on a C-32, a specially configured military version of the Boeing 757 that also ferries the vice president on occasion and is sometimes known as "Air Force Two."
According to publicly available Defense Department figures, DOD charges other federal agencies $12,723 an hour to cover expenses for the use of a C-32. Based on the distance traveled and the flight speed of the plane, this adds up to about $430,000 for use of the aircraft alone.
Perhaps the best estimate of the other costs involved in such a trip comes not from official sources but from a reporter, Dana Milbank of the Washington Post. In a 2002 article, he wrote that his reporting had found that a single presidential fundraising trip within the United States by then-President George W. Bush could cost close to $100,000 for items like staff, Secret Service and advance work. source – White House Dossier