Posts tagged
policy

The Ordinance of the Amorites is now official policy
Click to read Homosexuality vs. God's Holiness by end times author Dr. John McTernan…
WASHINGTON — The United States will begin using American foreign aid to promote gay rights abroad, Obama administration officials said on Tuesday.
President Obama issued a memorandum directing American agencies to look for ways to combat efforts by foreign governments to criminalize homosexuality.
The new initiative holds the potential to irritate relations with some close American allies that ban homosexuality, including Saudi Arabia.
But Secretary of State Hillary Rodham Clinton underscored Mr. Obama's remarks, in a speech delivered in Geneva in connection with International Human Rights Day on Dec. 10.
"I am not saying that gay people can't or don't commit crimes," she said. "They can and they do. Just like straight people. And when they do, they should be held accountable. But it should never be a crime to be gay."
The directive comes after the Parliament in Uganda decided to reopen a debate on a controversial bill that seeks to outlaw homosexuality, a move that could be expanded to include the death penalty for gay men and lesbians. That bill had been shelved earlier this year amid widespread international condemnation.
"I am deeply concerned by the violence and discrimination targeting L.G.B.T. persons around the world," Mr. Obama said in the memorandum, referring to lesbian, gay, bisexual and transgender people, "whether it is passing laws that criminalize L.G.B.T. status, beating citizens simply for joining peaceful L.G.B.T. pride celebrations, or killing men, women and children for their perceived sexual orientation."
Specifically, Mr. Obama said in the memorandum that the State Department would lead other federal agencies to help ensure that the government provides a "swift and meaningful response to serious incidents that threaten the human rights" of gay, lesbian, bisexual and transgender people abroad.
It was not immediately clear whether that would mean a cut-off of American aid to countries that target the gay community, but it suggests that American agencies will have expanded tools to press foreign countries that are found to abuse the rights of gays, lesbians and others.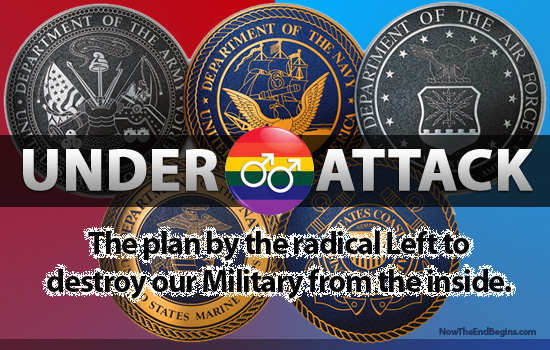 (Click here to read about the radical Far Left's plan to destroy the US military…)
Based on findings in the State Department's latest annual human rights report, several countries, including several vital American allies, could face increased pressure over their treatment of gays and others.
The report said that in Saudi Arabia, under Sharia law as interpreted in the country, "sexual activity between two persons of the same gender is punishable by death or flogging. It is illegal for men 'to behave like women' or to wear women's clothes and vice versa."
The law in Afghanistan "criminalizes homosexual activity, but authorities only sporadically enforced the prohibition," the report said. And in Pakistan, homosexual intercourse is a criminal offense, though rarely prosecuted.
Homosexuality is accepted in most of Europe. In India, the law permits consensual sexual activities between adults. In China, according to the report, "no laws criminalize private homosexual activity between consenting adults," and "homosexuality was decriminalized in 1997 and removed from the official list of mental disorders in 2001."
The annual State Department rights reports already provide one tool for influencing foreign treatment of gays and lesbians, through the "shaming" function of those reports. Mr. Obama's memorandum called for similar, separate annual reports on treatment of lesbian, gay, bisexual and transgender people.
With the 2012 presidential campaign already under way, Mr. Obama's action was bound to be viewed through a political lens, and it drew fire almost immediately from one Republican candidate, Gov. Rick Perry of Texas. Saying he had seen news reports that the Obama administration "wants to make foreign aid decisions based on gay rights," Mr. Perry said in a statement, "This administration's war on traditional American values must stop."
He added: "President Obama has again mistaken America's tolerance for different lifestyles with an endorsement of those lifestyles. I will not make that mistake."
Gay people tend to vote Democratic more than Republican, and have generally been supportive of Mr. Obama, with many praising his move to repeal the ban on gay people serving openly in the military. But he has faced criticism for failing to clearly support a right of same-sex couples to marry.
The presidential memorandum said that federal agencies engaged abroad had been directed to "combat the criminalization of L.G.B.T. status or conduct abroad; protect vulnerable L.G.B.T. refugees and asylum seekers; leverage foreign assistance to protect human rights and advance nondiscrimination; ensure swift and meaningful U.S. response to human rights abuses of L.G.B.T. persons abroad; engage international organizations in the fight against L.G.B.T. discrimination."
Mr. Obama has frequently made use of presidential directives to protect the rights of gays and lesbians, particularly when political sensitivities might have made legislative action impractical. source – New York Times   

Ushering in the age of darkness
"Woe unto them that call evil good, and good evil; that put darkness for light, and light for darkness; that put bitter for sweet, and sweet for bitter!" Isaiah 5:20
"Even as Sodom and Gomorrha, and the cities about them in like manner, giving themselves over to fornication, and going after strange flesh, are set forth for an example, suffering the vengeance of eternal fire." Jude 1
On December 18, 2010, the US Senate voted to repeal the military laws regarding homosexuality. Starting late last Summer, as it appeared the laws were going to be revoked, both military and civilian leaders started to make startling comments about what was going to happen when it was repealed. These comments made it clear that the Hard Left was going to use homosexuality to purge the Christians out of the military.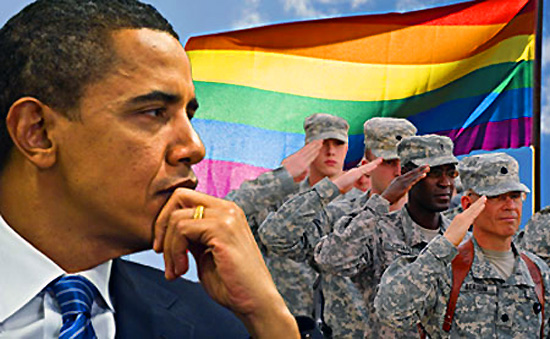 The military will be purged of anyone, from private to general, who will not go along with the Hard Left agenda. The military that remains will be morally beaten down and with soldiers that are godless; thus leaving the military without a soul. These will be the type of soldiers who will do whatever they are told. These are the type of soldiers who could be used against the American people. Please do not think that the Hard Left would not use the American military against the people. The Left hates Christians with a passion that is only matched for Nazis towards the Jews. They hate and despise Christians for standing against abortion and homosexuality. They hate anyone who is in any way associated with the Holy God of Israel. You can see this hatred on college campuses, the political left and in the media. Now, they are going to be in control of the US military with all of its power.  source – The Coming Destruction of the US Military
The queering of our military has begun
"SAN DIEGO — If a Marine spots two men in his battalion kissing off-duty at a shopping mall, he should react as if he were seeing a man and woman.  If he turns on the television news to see a fellow Marine dressed as a civilian and marching in a parade with a banner that reads, "Support Gays and Lesbians in the Military!" he should accept it as a free right of expression.
Prescriptions for those possible scenarios are being played out at Marine bases as the military prepares to allow gays to openly serve, ending a 17-year-old policy commonly known as "don't ask, don't tell." Training for the Army, Navy, Air Force and Marines began early this year and is expected to finish by summer's end. The repeal goes into effect 60 days after the president, defense secretary and chairman of the Joint Chiefs of Staff certify that lifting the ban won't hurt the military's ability to fight.
"These changes are about policy," states briefing material for Marine instructors. "The policy is about adherence to orders and behavior, and not about beliefs." The latest round of training material asks Marines to consider their reactions to a wide range of scenarios, from seeing a member "hanging around" a gay bar to hearing locker-room jokes from others who refuse to shower in front of gays. Members of the 1st Marine Logistics Group report to class Thursday at Camp Pendleton. There is nothing wrong with "hanging around" a gay bar, the materials state. The officer who witnesses the loud locker-room banter aimed at gays and lesbians should remind the Marines any discrimination or harassment is inappropriate. soucre – MSNBC