Posts tagged
obamacare

Events unfolding in Washington right now should send chills down the spine of every American who's paying attention. Occupying president Barack Obama has, for the second time, had regulations issued that are in direct violation of approved federal law regarding the Affordable Healthcare Act. This is what tyrants and dictators do, this is what Hitler did in 1933.
This is not America.
WASHINGTON: President Barack Obama's Treasury Department issued a new  regulation today that for the second time directly violates the plain and unambiguous text of the Patient Protection and Affordable Care Act by allowing some businesses to avoid the law's Dec. 31, 2013 deadline to provide health insurance coverage to their employees.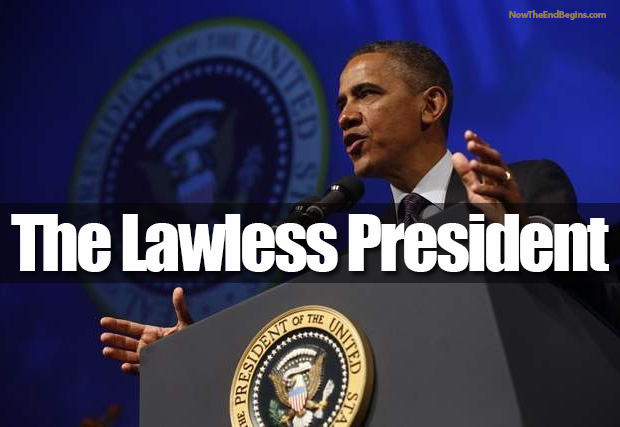 Initially, on July 2, 2013, the administration unilaterally delayed the deadline for the employer mandate until 2015. Now, the administration is unilaterally delaying it for some businesses until 2016.
In its official summary of PPACA, the Congressional Research Service said: "(Sec. 1513, as modified by section 10106) Imposes fines on large employers (employers with more than 50 full-time employees) who fail to offer their full-time employees the opportunity to enroll in minimum essential coverage or who have a waiting period for enrollment of more than 60 days."
The text of the law itself describes an "applicable large employer" as follows: "The term 'applicable large employer' means, with respect to a calendar year, an employer who employed an average of at least 50 full-time employees on business days during the preceding calendar year."
The final words in the section of PPACA mandating that employers with more than 50 full-time employees provide their employees with "minimum essential coverage" imposes a specific statutory deadline for doing so. It says: "EFFECTIVE DATE.—The amendments made by this section shall apply to months beginning after December 31, 2013."
At 4:45 POTUS and president Hollande walked out from a portico and strolled in Front of your pool with Leslie Bowman, president of the Monticello Foundation. Looking at a terrace she said that Jefferson loved to admire the landscape from there. POTUS said that he'd like to take a look and seemed delighted to "break the protocol".
"That's the good thing as a President, I can do whatever I want" he quipped, walking to the terrace with his guest and Ms. Bowman. Pool now in the mansion as the leaders will come and visit Jefferson's study. Weekly Standard
Last summer, the administration unilaterally moved this hard statutory deadline back one year to 2015 for all employers with more than 50 full-time employees. Now, without any action by Congress, the administration is moving it back again for some employers—despite the plain language of the law.
The Treasury Department has issued a fact sheet explaining how the Obama administration's new declaration changes the meaning of the Patient Protection and Affordable Care Act.
The fact sheet says:
"To ensure a gradual phase-in and assist the employers to whom the policy does apply, the final rules provide, for 2015, that: The employer responsibility provision will generally apply to larger firms with 100 or more full-time employees starting in 2015 and employers with 50 or more full-time employees starting in 2016."
The fact sheet goes on to say:
"To avoid a payment for failing to offer health coverage, employers need to offer coverage to 70 percent of their full-time employees in 2015 and 95 percent in 2016 and beyond, helping employers that, for example, may offer coverage to employees with 35 or more hours, but not yet to that fraction of their employees who work 30 to 34 hours."
It further says:
"While the employer responsibility provisions will generally apply starting in 2015, they will not apply until 2016 to employers with at least 50 but fewer than 100 full-time employees if the employer provides an appropriate certification described in the rules."
And also:
"Employers that are subject to the employer responsibility provisions in 2015 must offer coverage to at least 70 percent of full-time employees as one of the conditions for avoiding an assessable payment, rather than 95 percent which will begin in 2016."
In sum, the law says that employers with "at least 50 full-time employees" must provide "minimum essential coverage" in the "months beginning after December 31, 2013" or pay a fine. The new declaration from the Obama administration's Treasury Department says this part of the law no longer applies. It says employers with between 50 and 99 employees need not provide coverage until 2016 and larger employers need only provide coverage to 70 percent of their employees next year. source – CNS News