Posts tagged
nukes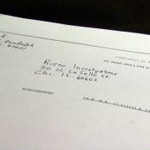 CHICAGO (CBS 2) – The threats came in the mail and to date, there have been 25 letters that warn of nuclear bombs destroying America. People who got them called the FBI and CBS 2′s Kristyn Hartman learned, the Bureau's Chicago office is leading the investigation.
FBI Special Agent Andre Zavala said, "Yes, they alarmed a lot of people." Attorney Tracy Rizzo was alarmed. A number of days ago, an envelope, with a Chicago postmark and a hand-written address to her private investigations firm, came in the mail.
The letter inside said, "The Al-Qaeda organization has planted 160 nuclear bombs throughout the U.S. in schools, stadiums, churches, stores, financial institutions and government buildings." It also said, "This is a suicide mission for us."
The writer, who claims to be Osama Bin Laden, tells the reader the nukes are remotely controlled. "It was clear the writer wanted to scare me," said Rizzo, "Yes, it frightened me." Rizzo was one of eight people in the Chicago area to contact the FBI.
Agencies in Oregon, California, Texas and Florida also got the letter with the Chicago postmark.
"There are items in the letter that lead us to believe it is a hoax," said Zavala. "There are several demands documented that aren't fully coherent." He said much of what's in the message doesn't add up, but in a post 9-11 world, the FBI can't let it go – even if it does appear to be a hoax." source – CBS Chicago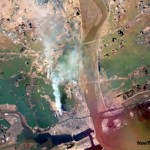 Workers flee after smoke billows from two units; radiation taints vegetables, water
FUKUSHIMA, Japan — Gray smoke rose from two reactor units Monday, temporarily stalling critical work to reconnect power lines and restore cooling systems to stabilize Japan's radiation-leaking nuclear complex.
Workers are racing to bring the nuclear plant under control, but the process is proceeding in fits and starts, stalled by incidents like the smoke and by the need to work methodically to make sure wiring, pumps and other machinery can be safely switched on.
"Our crisis is still going on. Our crisis is with the nuclear plants. We are doing everything we can to bring this to an end," Gov. Yuhei Sato of Fukushima prefecture, where the plant is located, told the more than 1,000 people moved away from the plant into a gymnasium. "Don't give up. We know you are suffering."
"Please get us out of here," yelled Harunobu Suzuki, a 63-year-old truck driver." source – MSNBC