Posts tagged
military coup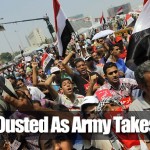 Anti-Obama Fever Grips Nation
US President Barack Hussein Obama's greatest achievement in 2012 was creating an Islamist Egypt ruled by the Muslim Brotherhood. Make no mistake about it, without Obama giving the Muslim Brotherhood financial support and the backing of the United States, the phony Arab Spring never would have taken hold. Of course, all this was done to turn the Middle East's largest Muslim country into a Sharia-ruled regime that just happens to sit on the southern border of Israel. Today, the Egyptian people and their army took their country back out of the hands of Barack Hussein Obama. source – NTEB
Photo Gallery: View all the photos posted today showing massive anti-Obama frenzy sweep across Egypt
From Breitbart: On Wednesday, Gen. Abdel Fatah Said Al-Sisi announced a military coup in Egypt. He said that the Constitution had been suspended, that early elections would take place, and that there would be a "code of ethics" for the media. He stated that the chief of the Constitutional court would be taking charge during a transitional period before another election. He said the new government would be "diverse and include all the people," and that the constitution would be revised to reverse changes made by ousted Muslim Brotherhood President Mohammed Morsi.
Al-Sisi said there would be a code of ethics for the media that would "establish values and ethics for the media to follow." He also stated that there would be a committee for reconciliation from leaders who are credible. The armed forces, he said, call on the great Egyptian people with its various groups to continue to have peaceful protests and end the crisis. He also said that the military warned it would take action against anyone moving beyond peaceful protest.
"May Allah preserve Egypt and its people," al-Sisi concluded.
UPDATES: A Morsi aide has said that Morsi has been removed to an undisclosed location.
Dr. Mohammed El-Baradei, a leader of the anti-Morsi opposition, stated that he hopes "all of us come back as reconciled people together. I hope that this 'road map' will be a beginning to continue with the revolution for which the Egyptian people have spent dearly to achieve social justice for every Egyptian man and woman."
CNN reports the sound of gunfire near pro-Morsi demonstrators, adding that Muslim Brotherhood followers had been training with sticks in preparation for violence. The crowd is chanting "victory or martyrdom." The Egyptian military, CNN reports, is 400 to 500 yards down from the pro-Morsi demonstrations.
Just before the military announced the ouster of Morsi, the army sent troops and armored vehicles to militarily sensitive points around the country, including throughout Cairo. Troops are also surrounding rallies by pro-Morsi forces.
Travel bans were imposed on Morsi and top figures from his Muslim Brotherhood including its chief Mohammed Badie and his powerful deputy Khairat el-Shater.
Associated Press reports that Egyptian defense leaders have told US officials that there will be no long-term military rule, telling Secretary of Defense Chuck Hagel and Chairman of the Joint Chiefs of Staff Gen. Martin Dempsy that a civilian government would be installed shortly. The Egyptian military has reportedly stated that it will protect US citizens in Egypt. AP also reports that American Councils for International Education in Washington, D.C., announced that it would be evacuating 18 Arabic language program students from Egypt to Morocco thanks to security concerns. The students hail from the Universities of Oklahoma, Michigan, Texas, Maryland, and Michigan State.
President Mohammed Morsi's Twitter account has called the military's announcement a "full coup." Morsi has been quoted as stating that today's events "represent a full coup categorically rejected by all the free men of our nation." CNN reports that Morsi appealed to his supporters to react peacefully to the military action.
Meanwhile, Reuters reports that the time frame of the early election will be determined by the interim administration. Christiane Amanpour of CNN says that Egyptian sources inform her it could be nine months to a year before new elections.
The US embassy in Cairo is closed Wednesday and was scheduled to be closed Thursday thanks to July 4, as well as for the weekend, according to CNN. The Washington Post reports that US embassy personnel in Cairo has ordered mandatory evacuation of all non-essential personnel, stating, "We will begin departures immediately, with the expectation that all evacuees will have left for the States by this weekend." Departures are mandatory, not voluntary. It is not yet clear, according to the Associated Press, whether an evacuation operation would be necessary.
All Muslim Brotherhood television channels in Egypt have now gone off the air, according to UPI. Al-Ahram reports that Al-Hafez and Al-Nas both went off the air immediately after al-Sisi's speech.
Reuters reports that the head of the constitutional court will be sworn in tomorrow as interim head of state in Egypt.
The United States has remained silent on the military action thus far, but the State Department charted an enigmatic course earlier on Wednesday, with spokeswoman Jen Psaki stating, "We think that all sides need to engage with each other and need to listen to the voices of the Egyptian people, and what they are calling for, and peacefully protesting about, and that's a message we've conveyed at all levels to all sides."
CNN reports that Attorney General Eric Holder and Secretary of Defense Chuck Hagel, among others, have been visiting the White House this afternoon, and that President Obama is in the loop. source – Breitbart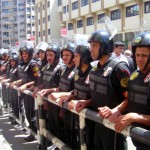 Egyptian military seizes control of state
CAIRO – Egypt's Hosni Mubarak resigned as president and handed control to the military on Friday after 29 years in power, bowing to a historic 18-day wave of pro-democracy demonstrations by hundreds of thousands. "The people ousted the president," chanted a crowd of tens of thousands outside his presidential palace in Cairo.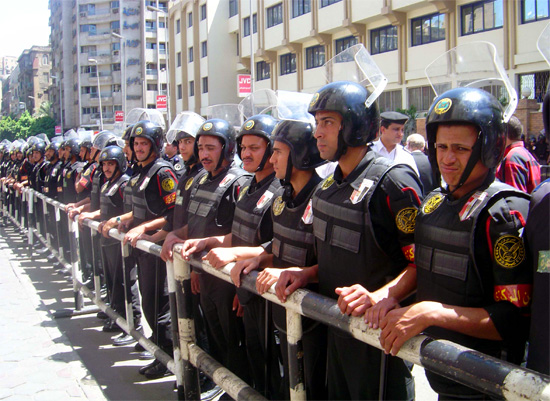 Several hundred thousand protesters massed in Cairo's central Tahrir Square exploded into joy, cheering and waving Egyptian flags. Fireworks, car horns and celebratory shots in the air were heard around the city of 18 million in joy after Vice President Omar Suleiman made the announcement on national TV just after nightfall.
"In these grave circumstances that the country is passing through, President Hosni Mubarak has decided to leave his position as president of the republic," a grim-looking Suleiman said. "He has mandated the Armed Forces Supreme Council to run the state. God is our protector and succor."
Mubarak had sought to cling to power, handing some of his authorities to Suleiman while keeping his title. But an explosion of protests Friday rejecting the move appeared to have pushed the military into forcing him out completely. Hundreds of thousands marched throughout the day in cities across the country as soliders stood by, besieging his palace in Cairo and Alexandria and the state TV building. A governor of a southern province was forced to flee to safety in the face of protests there.
It was the biggest day of protests yet in the upheaval that began Jan. 25, growing from youth activists working on the Internet into a mass movement that tapped into widespread discontent with Mubarak's authoritarian lock on power, corruption, economic woes and widespread disparities between rich and poor.  source – Yahoo News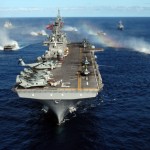 Bumped up a notch
Just as reports were portraying a calmer atmosphere in Egypt and it seemed that life was going back to normal, a swell of new protests has swept across the nation, re-igniting the furious demand that Mubarak be removed from power. The emerging chaos has prompted the US Military to move to action and take up strategic positioning in the Suez Canal.
"A fresh surge of popular anti-Mubarak protest ripping across Egypt Tuesday, Feb. 8 has brought the country closer to a military coup to stem the anarchy than at any time since the street caught fire on Jan. 25. Vice President Omar Suleiman warned a group of Egyptian news editors that the only choice is between a descent into further lawlessness and a military takeover in Cairo.
The arrival of US naval, marine and air forces in the Suez Canal's Greater Bitter Lake indicated that the crisis was quickly swerving out of control.
DEBKAfile's military sources report that the American force consists of the USS Kearsarge Expeditionary Strike Group of six warships. Helicopters on some of their decks are there to carry and drop the 2,200 marines of the 26th Marine Expeditionary Unit which has been bolstered by two special operations battalions.
Tuesday, the protesters mounted their biggest demonstrations of their campaign to oust Mubarak – in Cairo, Alexandria, the Delta Cities, the industrial belt around Mahalla-el-Kebir and the steel city of Heluan, shouting "Death to Mubarak!" and "Hang Mubarak!""  source: DEBKAfile
Though the presence of the US military may not do much to improve the already volatile situation in Egypt, it is incredibly important to protect the Suez Canal as well as nearby pipelines.  If shipments through the vital waterway are disrupted, or the flow of nearby pipelines cut off, the world will feel a major economic impact as energy prices would necessarily rise. Concerns were raised about the threat to the area after the massive explosion at a natural gas terminal in Egypt just days ago.
"As violence has broken out in Egypt, concern has turned to the risk of the blocking of the Suez Canal or nearby pipelines, which could pose a threat to world energy supplies.
More than two million barrels of oil and petroleum products traverse the Suez Canal daily, speeding the transit of crude and gas supplies that shippers would otherwise have to send around the Horn of Africa, prolonging delivery times and expenses. About 4.5 percent of global oil supplies flow through the canal and the Sumed pipeline, which connects the Red Sea with the Mediterranean.
About 14 percent of the global liquefied natural gas trade is shipped through the canal as well, providing critical supplies to Spain, and to a lesser extent, South Korea and the United States."