Tag: luxury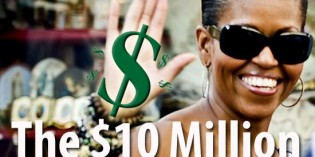 White House sources today claimed that the First Lady has spent $10million of U.S. taxpayers' money on vacations alone in the past year. The First Lady is believed to have taken 42 days of holiday in the past year, including a $375,000 break in Spain and a four-day ski trip to Vail, Colorado, where she spent $2,000 a night on a suite at the Sebastian hotel.
And the first family's nine-day stay in Martha's Vineyard is also proving costly, with rental of the Blue Heron Farm property alone costing an estimated $50,000 a week.
Michelle Obama Thursday traveled separately from President Obama to Martha's Vineyard, costing taxpayers thousands in additional expenses to get her a few hours of extra vacation time. Mrs. Obama and her daughters arrived just before 2 pm Thursday on a U.S. government jet, according to the Martha's Vineyard Times, which got its information from the local airport. The first lady's office has been silent on her travel. President Obama arrived in the evening along with the family dog Bo.