Posts tagged
libyan rebels

Aid and comfort to the enemy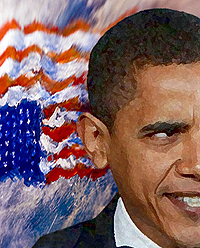 The Obama administration is seriously considering supplying the Libyan rebels with arms, training and technology in their effort to defeat Gaddafi. Only one, little problem with that – Al Qaeda is already on the ground with rebels, and Al Qaeda is a known enemy of the United States. If we arm the rebels it will be impossible to do without also arming and helping Al Qaeda. Thus Obama would be instantly and directly guilty of violating Article Three of the United States Constitution which says "Treason against the United States, shall consist only in levying War against them, or in adhering to their Enemies, giving them Aid and Comfort. No Person shall be convicted of Treason unless on the Testimony of two Witnesses to the same overt Act, or on Confession in open Court."
Libyan rebel commander admits his fighters have al-Qaeda links
Abdel-Hakim al-Hasidi, the Libyan rebel leader, has said jihadists who fought against allied troops in Iraq are on the front lines of the battle against Muammar Gaddafi's regime. In an interview with the Italian newspaper Il Sole 24 Ore, Mr al-Hasidi admitted that he had recruited "around 25″ men from the Derna area in eastern Libya to fight against coalition troops in Iraq. Some of them, he said, are "today are on the front lines in Adjabiya".
Mr al-Hasidi insisted his fighters "are patriots and good Muslims, not terrorists," but added that the "members of al-Qaeda are also good Muslims and are fighting against the invader".
His revelations came even as Idriss Deby Itno, Chad's president, said al-Qaeda had managed to pillage military arsenals in the Libyan rebel zone and acquired arms, "including surface-to-air missiles, which were then smuggled into their sanctuaries". Mr al-Hasidi admitted he had earlier fought against "the foreign invasion" in Afghanistan, before being "captured in 2002 in Peshwar, in Pakistan". He was later handed over to the US, and then held in Libya before being released in 2008.
US and British government sources said Mr al-Hasidi was a member of the Libyan Islamic Fighting Group, or LIFG, which killed dozens of Libyan troops in guerrilla attacks around Derna and Benghazi in 1995 and 1996." source – Telegraph UK
Treason
So, if Mr. Obama and his crew do decide to arm the Libyan rebels, as we have shown, they will also by default be arming Al Qaeda, which will be treason against the United States of America according to our Constitution. Make your move, Barry, and make it a good one.

British mission goes very wrong
"Up to eight British soldiers are being held by rebel forces in Libya after a secret mission to put British diplomats in touch with opponents of Libyan leader Muammar al-Qaddafi, according to the London Times. The soldiers were captured Saturday as they escorted a junior diplomat through rebel-held territory in eastern Libya, according to the paper.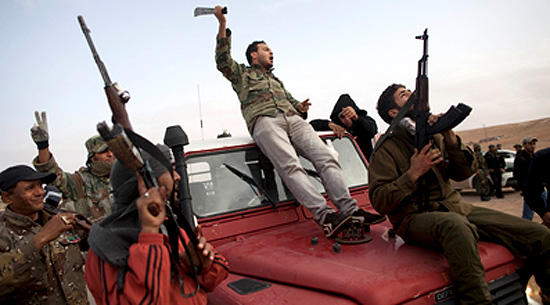 This comes after Qaddafi loyalists swept into the opposition-held city closest to Tripoli, tightening security around the regime-held capital. To the east, rebel forces captured a key oil port as the country veered toward civil war. Rebels said government forces had moved in to Zawiya, west of the capital, with tanks and dozens of people had been injured, but they vowed to keep up the fight. One rebel said the hospital was under control of pro-Qaddafi forces so the injured were being taken to a makeshift clinic set up in a mosque or to private homes for treatment.
"The number of people killed is so big. The number of the wounded is so big. The number of tanks that entered the city is big," he said, although he couldn't provide a specific casualty toll. Opposition forces in the east, meanwhile, advanced west in a push toward Qaddafi's hometown of Sirte, a day after the port city of Ras Lanouf fell to the rebellion. The contrasting fortunes of the two warring sides suggest that the conflict in Libya could last for weeks and maybe months, with neither side mustering enough military power to decisively defeat the other. The government is fighting fiercely to maintain its hold in Tripoli and surrounding areas and the rebels are pushing their front westward from their eastern stronghold.
Qaddafi, who has led the country virtually unchecked for four decades, has unleashed a violent crackdown against those seeking his ouster, drawing international condemnation and sanctions." source – Fox News