Posts tagged
Lebanon

The land is indeed occupied
"Pray for the peace of Jerusalem: they shall prosper that love thee." Psalm 122:6
The Palestinians are constantly talking about the "occupied land" in which Israel exists. And this is one time when I will side with them and agree that the land is indeed occupied by an invading force that has no right to be there. Because when I read my King James Bible, it tells me that God gave the land to Abraham and to his seed, his descendants. Abraham's seed are the Jews, and according to God, all of the land of Israel, especially the West Bank, belongs to the Jews for eternity. So that would make the "palestinians" the occupiers.
Northern Command sources say there are expectations that Palestinians in Lebanon will travel to the border to participate in protests.
"IDF troops will be deployed in large numbers throughout the West Bank and along the border with Lebanon on Friday, amid expectations that massive demonstrations will break out on both fronts ahead of Nakba Day ("the day of the catastrophe").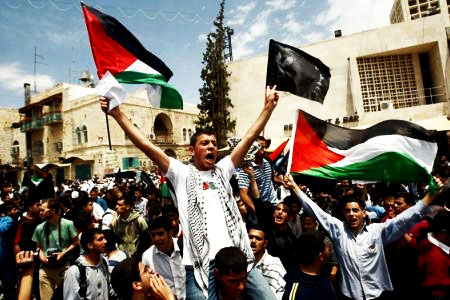 The IDF began reinforcing troops in the West Bank earlier this week, and sources in the Northern Command said on Thursday that there were expectations that Palestinians in Lebanon will also travel to the border to participate in the protests. Several Palestinian groups have called for large demonstrations along Israel's various borders ahead of Nakba Day, which is the Palestinian commemoration of the establishment of the State of Israel in 1948. Expectations are that the demonstrations will start on Friday, and last until Sunday.
Expected hotspots in the West Bank include the Kalandiya Checkpoint outside of Jerusalem, near the Ofer Prison off Road 443, as well as Nablus, Tulkarm and Ramallah. The demonstrations are expected to include stone-throwing, but not live weapons. Officers from the IDF's Northern Command spoke with UNIFIL this week, and warned of severe consequences if Palestinian demonstrators try to damage the border fence between Israel and Lebanon during the demonstrations. "We respect people's right to protest, but we will not tolerate damage caused to infrastructure, like the border fence," an IDF officer said." source – JPost