Posts tagged
Economy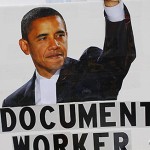 And the walls came tumblin' down
WASHINGTON — President Obama's latest stop on his jobs bill tour Wednesday was a machine company in North Carolina that has sent jobs to Costa Rica.
After touring the facility of WestStar Precision, Obama said in a speech at North Carolina State University that the small business — headquartered in Apex, N.C., a Raleigh suburb — would benefit from the $450 billion jobs plan — which relies heavily on tax hikes on upper income earners — he's been pressing Congress to pass right away.
"What they do is what a lot of companies in the Research Triangle do so well," he said. "They hire smart people; they give them the best technology; they create something of lasting value." 
"And that's how this country built a strong and growing economy and a strong expanding middle class. That's our history. That's what we got to get back to," Obama said to roaring applause.
The company makes specialized components for the aerospace, medical and alternative energy industries, according to its website. The North Carolina office is about 11,000 square feet and reportedly employs 25 workers. The facility in Costa Rica is nearly as big at about 10,000 square feet. The company's website says the Costa Rica facility is "designed for high volume production to support our international and domestic clients."
WestStar was founded in 1996 and says it has tripled its employment in North Carolina since 2000. The company started sending jobs to Costa Rica to capitalize on low labor costs, the News & Observer reported in 2004. The company's owner, Erv Portman, has also reportedly donated $1,000 to Obama's inauguration fund. Portman is the newest Democratic commissioner in Wake County. source – Fox News