Posts tagged
crackdown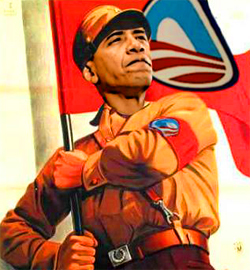 It has to start somewhere
You may not have noticed but over the past few months there have been a number of articles about the US government cracking down on "internet piracy". Now by "piracy" they immediately are referring to stolen or counterfeit goods like sports memorabilia, designer watches, etc. Then after they floated that trial balloon, we read today in the article quoted below that that will now extended to "downloadable content" that you did not create or purchase yourself such as songs, videos and movies. But let me tell you, and you will not read this anywhere else, who the real target of the Obama administration is – web bloggers and people who repost story content.
Obama knows that in our social-obsessed society that if he cannot control the Internet, and what's posted on there, then ultimately he cannot control his message. One of the most rapid means of information transfer in the world today is people who write for blogs and post on Facebook and Twitter. The entire Egyptian revolution by the Muslim Brotherhood was waged first on Facebook. So we will predict that the real intent of Obama's crackdown on piracy is actually a veiled attempt to stop the flow of news and other information. But you have to start somewhere, right? And someday very soon, the act of reposting the story below taken from MSNBC, will be branded a crime by Obama. Obama is creating a "yellow star" shadow government, and it seems that there is little that can be done to stop him, other than to post and repost stories like this one.
"Amid growing calls for more government regulation of the Internet, the United States is conducting what it calls "a sustained law enforcement initiative aimed at counterfeiting and piracy" – an effort that already has resulted in arrests and the seizure of 125 websites. Ask anybody who uses a computer if they've ever downloaded or streamed media content for free on the Internet, and the answer most likely will be yes. The U.S. government and the American media industry say as much as a quarter of this kind of media traffic violates U.S. copyright law, and both are getting serious in their attempts to turn off the spigot.
The government and the media industry say U.S. copyright law (specifically, 18 USC 2319), states that distributing such content without permission from the copyright holder is a crime – copyright infringement. They generally use a simpler name: theft – of intellectual property, or "IP theft" for short.
The most recent skirmish in the escalating conflict occurred this week, when the U.S. Immigration and Customs Enforcement agency (ICE) announced that its Homeland Security Investigations unit had seized the domain names of five websites that it said were being used to sell counterfeit goods or illegally distribute copyrighted materials, including media content.
If convicted, the banner warns, even first-time offenders "will face up to five years in federal prison," plus "restitution, forfeiture and fine."
The crackdown – dubbed "Operation In Our Sites" – is being spearheaded by ICE's National Intellectual Property Rights Coordination Center, working in coordination with U.S. attorneys' offices across the country. The initiative has so far seized the domain names of 125 websites since it began last year, ICE says, effectively shutting them down." source – MSNBC

Chinese forces remind the world that they are experts in the art of the crackdown
Chinese authorities are moving quickly to crush any attempt for uprisings in China. The call to protest is believed to have first circulated Saturday on the Chinese news website Boxun.com, based in the United States. Mobile phone and text messaging services have been disconnected within China, and searches for "Jasmine" have been censored as Beijing anxiously tries to quell any opportunity for protests to spread across the nation. Boxun.com, as well as Twitter and Facebook have been blocked, which will make it difficult for organized demonstrations to get off the ground.
BEIJING – Several top Chinese rights activists have disappeared into police custody as a web campaign urged angry citizens to mark the Middle East's "Jasmine Revolution" with protests, campaigners said Sunday.
Up to 15 leading Chinese rights lawyers and activists have disappeared since Saturday amid a nationwide police mobilisation, according to activists, while the government appeared to censor Internet postings calling for the demonstrations.  source: Channel News Asia
"We welcome… laid off workers and victims of forced evictions to participate in demonstrations, shout slogans and seek freedom, democracy and political reform to end 'one party rule'," one posting said.
The postings, many of which appeared to have originated on overseas websites run by exiled Chinese political activists, called for protests in Beijing, Shanghai, Guangzhou and 10 other major Chinese cities.
Protesters were urged to shout slogans including "we want food to eat," "we want work," we want housing," "we want justice," "long live freedom," and "long live democracy.  source: Asia One

Algerians fight for their right to protest amid violent crackdown
On Saturday, a brave crowd of about 2,000 took to the streets in protest and faced nearly 30,000 riot police. Those who gathered were demanding the removal of President Abdelaziz Bouteflika, and took to the streets even though it has been illegal to protest in the capital city of Algiers since a state of emergency was declared in 1992. In protests staged since last month, many have been arrested or injured, and journalists have been specifically targeted for violent attacks.
"The protesters have been chanting anti-government slogans including "down with the regime" and some waved copies of a newspaper front page with the headline "Mubarak has fallen!"
Widespread unrest in Algeria could have implications for the world economy because it is a major oil and gas exporter, but many experts say a revolt is unlikely because the government can use its energy wealth to resolve most grievances."  source: Sky News
"Security forces are armed to the teeth out on the street, and they're also doing everything to crush our uprising on the internet. Journalists, and especially those with cameras, are being taken away by the police."
Similar to the response in Egypt, the government responded by going after the internet and social networking to stifle the protesters' ability to organize.
"Internet providers were shut down and Facebook accounts deleted across Algeria on Saturday as thousands of pro-democracy demonstrators were arrested in violent street demonstrations.
On Saturday at least 500 had been arrested by early evening in Algiers alone, with hundreds more in Annaba, Constantine and Oran taking part in the so-called February 12 Revolution." source: Telegraph UK
Many Algerians have stayed away from the demonstrations, but there are already more anti-government demonstrations planned for Februray 19.