Posts tagged
compound

Bad intelligence or done on purpose?
For the past however many years, we have been spoon-fed the lie that Bin Laden was "hiding in the mountain caves", living like a wanted man, trying desperately to keep his Al Qaeda network alive though couriers and recruits. However, as with most stories told to us by the Federal government, not only was it "incorrect", it was a lie. Bin Laden spent the last 5-6 years living a custom built mansion in Pakistan with every possible amenity you could ask for. He wasn't even really hiding. So when you think on how he was "captured and killed" at the start of the 2012 presidential election cycle at a time when Obama poll numbers keep dropping, just chalk all this up to an a-m-a-z-i-n-g coincidence. Yep, that's it.
"WASHINGTON (Reuters) – Osama bin Laden lived for the past five to six years in the compound deep inside Pakistan where the al Qaeda leader was killed by U.S. forces, President Barack Obama's counterterrorism adviser said on Tuesday. Bin Laden, who was living in Afghanistan before a 2001 U.S.-led invasion helped topple its Taliban regime, was holed up in a compound in the military garrison town of Abbottabad in Pakistan before Sunday's operation to kill him.
"Well I think the latest information is that he was in this compound for the past five or six years and he had virtually no interaction with others outside that compound. But yet he seemed to be very active inside the compound," White House counterterrorism chief John Brennan said on the CBS Early Show program. "And we know that he had released videos and audios. We know that he was in contact with some senior al Qaeda officials," Brennan added.
"So what we're trying to do now is to understand what he has been involved in over the past several years, exploit whatever information we were able to get at the compound and take that information and continue our efforts to destroy al Qaeda," Brennan added.
The fact that the al Qaeda chief had lived in the compound for such a long time has prompted some U.S. lawmakers to demand a review of the billions of dollars in aid the United States provides Pakistan, which is fighting a Taliban insurgency." source – Yahoo News

Bombs aweigh
Loud explosions and barrages of anti-aircraft fire were heard near the Tripoli compound of Libyan strongman Muammar Gaddafi on Monday night, an AFP correspondent says. 

Loud explosions and barrages of anti-aircraft fire were heard near the Tripoli compound of Libyan strongman Muammar Gaddafi on Monday night, an AFP correspondent says. The volleys erupted about 7.00pm GMT (6.00am AEDT) near the Bab el-Aziziya barracks in the south of Tripoli, the correspondent said. Libyan state television confirmed what it called the "crusader enemy" attacks. "These attacks are not going to scare the Libyan people," the TV broadcast said.
Similar explosions rocked the capital on Sunday night, with coalition officials on Monday saying an administrative building in Gaddafi's fortified complex, about 50 metres from the tent where he generally meets guests, had been destroyed by a cruise missile. Britain, France and the US began launching strikes with aircraft and cruise missiles on targets in Libya late on Saturday in line with a UN Security Council resolution authorising any measures to stop Kadhafi harming civilians in a campaign by his forces to subdue an uprising.
US President Barack Obama said on Monday that Gaddafi must leave power, but stressed the United States would stick to the UN mandate in its military action in Libya. "Our military action is in support of an international mandate from the Security Council that specifically focuses on the humanitarian threat posed by Colonel Gaddafi to his people," Obama told a press conference. Obama said as part of the international coalition now enforcing a no-fly zone in Libya, he had "authorised the United States military to work with our international partners to fulfill that mandate". "Now, I also have stated that it is US policy that Gaddafi needs to go," Obama added after talks in Santiago with Chilean President Sebastian Pinera." source – The Age

So where is Gaddafi right now?
WASHINGTON — A cruise missile blasted Libyan leader Moammar Gadhafi's residential compound overnight in an attack that carried as much symbolism as military effect. Fighter jets also destroyed a line of tanks moving on the rebel capital. The U.S. said the international assault would hit any government forces attacking the opposition.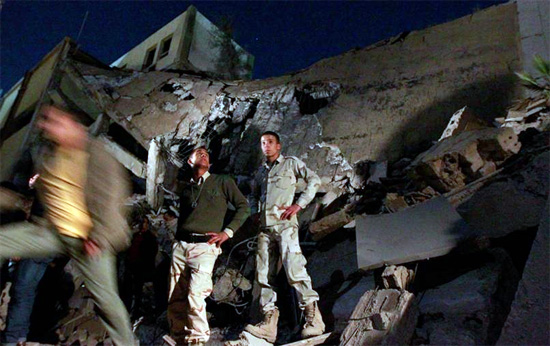 Jubilant rebels said they expected to bring Gadhafi down in a matter of days. Meantime, U.S. military officials told NBC News that Gadhafi's chief of staff has ordered that bodies be removed from morgues and placed at a bombing site in Bab al Azaziya to make it appear the dead had been killed by coalition air strikes. The site, which the U.S. insists was a legitimate military target, was bombed Sunday and military intelligence reported no sign of civilian casualties. According to intelligence reports, once the bodies are in place, international media will to be taken to the site to report the alleged atrocity. The reported effort to stage the deaths of innocent civilians comes after the head of the Arab League condemned the apparent killing of civilians in coalition airstrikes.
Attack on Gadhafi's home
It was not known where Gadhafi was when the missile hit near his iconic tent late Sunday, but it seemed to show that while the allies trade nuances over whether the Libyan leader's fall is a goal of their campaign — he is not safe." source – MSNBC