Tag: Catholic Church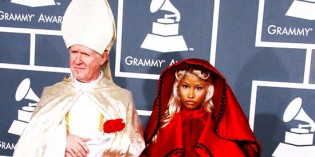 Many Grammy attendees were heard voicing their disgust for so-called artist Nicki Minaj. Blake Shelton was heard saying, "Nicki Minaj needs to crawl back inside the fiery pit she came from… back to her father, Beelzebub." The Grammy show consisted of an exorcism, levitation and a demon possessed Minaj. She had an actor portray a priest attempting to exorcise her. Minaj believes she is the demon possessed spirit of someone called Roman. That same actor priest had accompanied Minaj into the Grammy awards earlier wearing a Pope's pontiff and robes.
It will definitely be an interesting thing to watch for if the Catholic League's President will really raise up the an outrage against this performance by Nicki Minaj. It may be important to note that Donahue brushed off Lady Gaga's "Judas" music video last year as that she was "dancing on the line" but never actually crossed it.