Posts tagged
burn

(CNN) — Deadly protests sweeping Afghanistan in reaction to the Quran-burning by Florida Pastor Terry Jones are a defeat for those on all sides fighting for Afghanistan's peaceful future. They could not come at a worse time for the war effort in Afghanistan or the push to win greater support for the war here in the United States.
For the last two weeks, Afghan media have reported both on the Quran-burning and the horrific charges that American soldiers created "kill teams" that targeted Afghan civilians for sport and captured their murders on video, in some cases even posing with their corpses.
Many Afghans don't realize that these few do not stand for the majority of Americans, who respect Islam and vocally condemn the desecration of a holy book by a rogue, publicity-seeking pastor. And that Americans feel overwhelming shame and outrage at the killing of innocents at the hands of U.S. soldiers, a sentiment particularly strong among those in uniform who see such crimes as a brutal desecration of their own standards and values. source – CNN News
Florida pastor Terry Jones's Koran burning has far-reaching effect
GAINESVILLE, Fla. — The charred Koran that inspired a deadly attack and violent protests across Afghanistan now sits in a plastic Home Depot bag in a storage room here in a run-down church. It has been stashed atop a pile of cardboard boxes, next to a tattered pair of boxing gloves. It still smells of kerosene. The Rev. Terry Jones had threatened to burn the text in September, in the midst of a controversy over plans to develop an Islamic center near the site of the September 2001 terrorist attacks in Manhattan. He was eventually dissuaded through the pleas of religious leaders and government officials, including a phone call from Defense Secretary Robert M. Gates.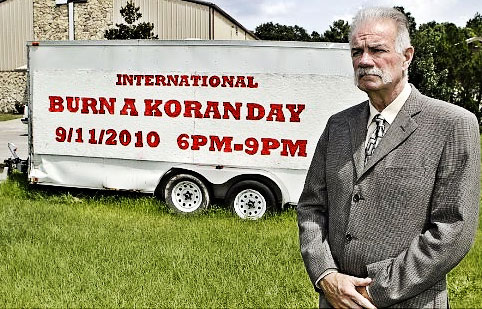 But when Jones announced in January that he was going to "put the Koran on trial," he said he didn't hear a single complaint. On March 20, Jones dressed in a judicial robe and ordered a copy of the Koran to be torched in a portable fire pit.
"It's like people forgot about us," Jones said Saturday. "But we kept doing what we do."
The world was reminded of the 30-person Christian congregation at Dove World Outreach Center on Friday, when a mob incited by the burning of the Koran attacked a U.N. compound in Mazar-e Sharif, killing seven U.N. employees. On Saturday, related protests in Kandahar left nine dead and more than 90 injured." source – Washington Post