Posts tagged
Bill Gates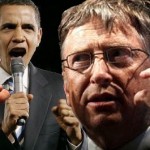 Microsoft  co-founder Bill Gates, the wealthiest American, said on "some days" he wishes the U.S. political system were like England's, so that President Barack Obama could have "slightly more power."
Gates was asked for his assessment of President Obama's job performance during an interview at Politico's "Playbook Cocktails" event.
"Some days I wish we had a system like the U.K. where, you know, the party in power could do a lot and you know, you'd see how it went and then fine you could un-elect them," said Gates on Wednesday.
"Now, over time, our system has worked slightly better than theirs, theirs has worked okay but so it's ironic that right now it feels like I wish there was slightly more power in the presidency to avoid some of these deadlocks. So I think what he Obama wants to do and what he's actually able to do, the gap is so big there that it's hard to know in some ways." source – Daily Caller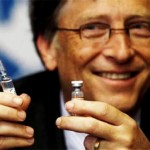 Definition of Eugenics: Study of human improvement by genetic means. The first thorough exposition of eugenics was made by Francis Galton, who in Hereditary Genius (1869) proposed that a system of arranged marriages between men of distinction and women of wealth would eventually produce a gifted race. The American Eugenics Society, founded in 1926, supported Galton's theories. U.S. eugenicists also supported restriction on immigration from nations with "inferior" stock, such as Italy, Greece, and countries of eastern Europe, and argued for the sterilization of insane, retarded, and epileptic citizens. Sterilization laws were passed in more than half the states, and isolated instances of involuntary sterilization continued into the 1970′s. source – Merriam Webster

Eugenics and Planned Parenthood: We recoil in horror when shown newsreel footage of the atrocities done by the Nazis during WWII, and rightly so. The Nazis under Hitler were one of the most inhumane and barbaric people ever to walk the face of this earth. They killed, tortured and mutilated their fellow human beings just for the sheer pleasure of it. Nazis believed that they could create an Aryan "master race" by breeding 'pure Germans' with each other while at the same time expunging from the population rolls all those they deemed as unfit to live. But these freakish notions did not die with Hitler. They are alive and well in every Planned Parenthood office across America.
The Negro Project: Planned Parenthood, founded by Margaret Sanger, has it's roots deeply steeped in Nazi ideals. Sanger was, first and foremost, a eugenicist – one who believed in the inferiority of non-white races. In 1939, she proposed the infamous "Negro Project," a plan developed at the behest of public-health officials in southern states, where she writes, "the most successful educational approach to the Negro is through a religious appeal. We do not want word to go out that we want to exterminate the Negro population and the Minister is the man who can straighten out that idea if it ever occurs to any of their more rebellious members." Sanger also attempted to set up birth-control clinics in poor New York City neighborhoods to target "Blacks, Hispanics, Slavs, Amerinds, Fundamentalists, Jews and Catholics."
Sanger was closely tied to Ernst Rudin, who served as Hitler's director of genetic sterilization. An April 1933 article by Rudin – entitled "Eugenic Sterilization: An Urgent Need" – for Sanger's monthly magazine, The Birth Control Review, detailed the establishment of the Nazi Society for Racial Hygiene and advocated its replication in the United States.
Eugenics and Bill Gates: Software billionaire Bill Gates, who previously has advocated the reduction of the human population through the use of vaccines, and his wife Melinda marked the 100th year since the First International Eugenics Congress in London with a "family planning" summit with abortionists and the United Nations.
The July 11 event, co-hosted by the United Kingdom Department for International Development, included organizations such as Planned Parenthood, Marie Stopes International and the U.N. Populations Fund, as well as the Bill and Melinda Gates Foundation.
Critics pointed out the summit was held 100 years after the July 1912 eugenics conference led by Leonard Darwin, the son of Charles Darwin, and dedicated to Darwin's half-cousin Francis Galton. Galton invented the term eugenics to promote the idea that strategic breeding would improve mankind.
According to Christian Voice, a ministry that analyzes current events and acts on Scriptural instructions for "a better way, God's way," the 1912 event promoted the "notion that economics can be improved by decreasing the surplus population," based on the theories of Thomas Malthus.
The 17th century luminary suggested that the poor were "draining the world's resources," and a solution would be "to introduce policies specifically designed to bring death to large numbers of peasants."
Gates made his remarks to the invitation-only Technology, Entertainment and Design 2010 Conference in Long Beach, Calif. His February address was titled "Innovating to Zero!"
He presented a speech on global warming, stating that CO2 emissions must be reduced to zero by 2050. Gates said every person on the planet puts out an average of about five tons of CO2 per year.
"Somehow we have to make changes that will bring that down to zero," he said. "It's been constantly going up. It's only various economic changes that have even flattened it at all. So we have to go from rapidly rising to falling, and falling all the way to zero."
Gates presented the following equation: CO2 (total population emitted CO2 per year) = P (people) x S (services per person) x E (average energy per service) x C (average CO2 emitted per unit of energy)
"Let's look at each one of these and see how we can get this down to zero," he said. "Probably one of these numbers is going to have to get pretty near to zero. That's a fact from high school algebra."
Discussing the "P," or population portion of the equation, he stated, "Let's take a look. First we got population. The world today has 6.8 billion people. That's headed up to about 9 billion. Now if we do a really great job on new vaccines, health care, reproductive health services, we could lower that by perhaps 10 or 15 percent" [emphasis added].
Further, he said it would not be hard to keep track of children, the vaccines they've had and when they're due for another.
He said cell phone technology could be used to register every birth around the globe and track children to make sure they have been vaccinated as government advisers urge.
The massive effort was discussed by Gates at a mHealth Summit, which delved into the issues of technology and health. According to Natural News, Gates told the conference that the goal is a lower population, and using vaccines to improve early childhood health is a step in that direction. "That sounds paradoxical," he said. "The fact is that within a decade of improving health outcomes, parents decide to have [fewer] children."
"If you could register every birth on the cell phone, get fingerprints, get a location, then you could take the systems where you go around and make sure the immunizations happen," he said. "Run them in a more effective way."
WND also reported in May 2009 when Gates joined some of the richest men and women in the world meeting secretly in New York to talk about using their vast wealth to bring the world's population growth under control. source – WND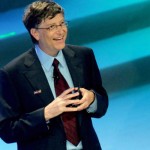 They're coming for the kids first 
What do Felipe Calderon and Bill Gates have in common? Both are taking steps to get millions of people registered in biometric databases to advance the One World Government agenda, and they're targeting children as a first step. 
Mexico's mandatory National Identity Card 
Last month in Mexico, Felipe Calderon signed an executive order that requires all children 17 and under to have photos, fingerprints, and iris scans taken for use in issuing national identity cards. The head of the Mexican Population Register wants to visit all the children at their elementary schools in order to gather the biometric data and complete the first phase of the plan; phase two will require that all adults become registered as well. Dr. Jerome Corsi with World Net Daily connects the national identity card with the American Trusted Traveler Program designed by the Department of Homeland Security. The program was created to allow quick and easy travel straight across the border into the United States, from Canada and Mexico, and will grant millions of passes to those who qualify. 
"The new Mexican Personal Identity Card includes a security hologram to prevent duplication or the creation of fraudulent cards; iris scan information embedded in a bar code on the reverse of the card; various biometric information included invisibly in the card, including all 10 digits in fingerprints. 
While promoted as a way to prevent crimes such as identity theft, Mexico has decided to begin with the nation's school children, to create the type of biometric national identity database that will allow Mexican children as they grow up to already possess the biometric information they will need to obtain North American Trusted Traveler border pass cards the U.S. Department of Homeland Security is preparing to issue to Mexican citizens."  source: WND 
The reasons given for global programs and initiatives always sound so nice. They're usually packaged as being in the best interest of the people, to protect them and keep them safe. Mexico just wants to protect their children from identity theft in the future, right? And Bill Gates? He only has the health and well being of children across the globe at heart. Who wouldn't want to support his efforts? 
Vaccines and population control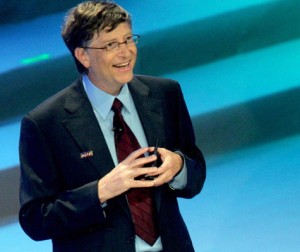 Bill Gates and The Gates Foundation have donated hundreds of millions of dollars to vaccination efforts around the world. A couple of months ago, Gates was the keynote speaker at the m Health Summit. He explained that he believes children should be registered in a database that includes biometric identifiers, in order to ensure that kids get their vaccines, and on time. He relates healthier children to a reduction in world population, and he wants to help ensure that he does his part to reduce the number of humans living on planet Earth. Especially considering Gates' ties to the Council on Foreign Relations, any mention of vaccines and population control certainly should raise eyebrows, and red flags. See how he tries to describe that vaccinations actually reduce population growth in a positive way. 
"The key thing, the most important fact that people should know and make sure other people know: As you save children under 5, that is the thing that reduces population growth," he said. "That sounds paradoxical. The fact is that within a decade of improving health outcomes, parents decide to have less children." 
Vaccines will be the key. If you could register every birth on a cell phone– get fingerprints, get a location — then you could [set up] systems to make sure the immunizations happen." 
Gates suggested using cell phones to record each birth and send the information, including biometric identifiers, to a central database. This database would then send reminders to parents' phones when it was time to come in for vaccines or other treatments.  source: Natural News 
Saving the planet 
Last, but not least, the globalists are always concerned with saving the planet and figuring out ways to guarantee that there are less humans around to destroy it. 
"The world today has 6.8 billion people… that's headed up to about 9 billion. Now if we do a really great job on new vaccines, health care, reproductive health services, we could lower that by perhaps 10 or 15 percent." -Bill Gates 
Vaccines, healthcare, and reproductive services are the three main focuses of Gates' plan to save the planet from overpopulation, and reduce CO2 emissions as laid out in the following video from a 2010 TED conference: