Posts tagged
Anjem Choudary

Not as funny as you would think
The most dearly-held goal of Islam is a United Sharia States of America, and mark my words  - these people will stop at nothing until they have accomplished this goal. Having a Muslim occupying the White House makes this dream of theirs all the more possible to attain. A burka covering the Statue of Liberty's face? Don't laugh…you need to take this seriously. England laughed when Muslims declared they would take it over. But they aren't laughing any longer, they are desperately trying to stave off the Muslim biological jihad that threatens to sink them.
A team of radical Muslims who, under the banner of Shariah4America today abruptly canceled their plan for a pro-Shariah rally at the White House, instead announced on theirwebsiteplans to cover the Statue of Liberty with a burka.  The Statue of Liberty, designed by Frederic Bartholdi, stands on Liberty Island in New York Harbor; representing Libertas, the Roman (false) goddess of Freedom, it is symbolic of the rebellious nature of the U.S. Constitution that elevates the command of man over the command of God," the organization announced.
"In Islam, the public veneration of idols and statues is strictly prohibited. This has forced sincere Muslims to develop realistic plans that will aid in the removal of the Statue of Liberty.
"Due to the scale of the task at hand, it is highly likely that rigorous safety checks will need to be employed before the demolition of the Statue of Liberty can commence; thus as a temporary measure, it is proposed that a large burka is used to cover the statue, thereby shielding this horrendous eye sore from public view as well as sending a strong message to its French creators," the website proclaimed. "Post demolition, it is recommended that a minaret be built as a fitting replacement, allowing the glorification of God to be proclaimed daily as well as act as a powerful reminder of the superiority of Islam over all other ways of life," the site said.
The gathering had been announced by radical British Muslim cleric Anjem Choudary and his two assistants, Sayful Islam and Abu Izzadeen. It was to be in front of the White House and "respond" to the "demand" for Shariah, or Islamic law, across the United States. Listen to the video below to hear Choudary's explanation for his cancelling of the March 3rd Sharia March On Washington. Source – WND


The religion of peace advocates a violent overthrown of America
On March 3, Muslim led by the terrorist Anjem Choudary, will march on Washington to demand the installation of Sharia law in the United States. Sounds laughable, you say? Don't be so quick to mock. Remember we have a Muslim born and raised President occupying the seat in the Oval Office. I am thinking that the Muslims may accomplish much more than anyone thinks they will, including themselves.
Muslims Plan March On Washington To Support A United Sharia Of America
As expected, Muslims across the world have started to lock arms in their quest to impose Shariah Law (Islamic Law) on all. For the most part, Muslims in America had confined this call to their barracks…..,errr, I mean Mosques and Islamic conferences. Now, in a brazen display of united force, Muslims calling for the adoption of Shariah in this country plan to march near the White House on March 3rd. The leader of the pack is the U.K.'s Anjem Choudary, a Muslim cleric.
His partners, who actually believe that America will bow to Islamic Law, are NY's "Islamic Thinkers Society", the group who desecrate the U.S. flag. The name of this doomed movement is Shariah4America. They rely on the verses of the Koran to support their mission. Muslims believe the Koran to be the literal words of Allah." source – Right Side News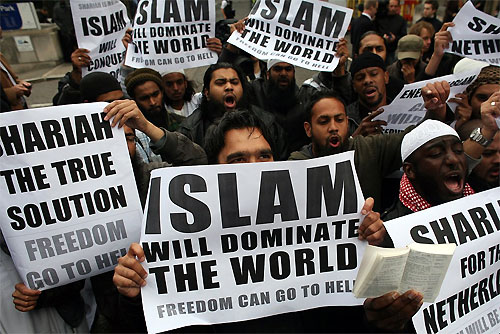 "One day the flag of Islam will fly over the White House." -Imam Anjem Choudary
Are you ready for Sharia in America? Open calls for Sharia to rule in America are becoming louder and more frequent, something that quite frankly, many Americans never thought they would witness in their lifetime.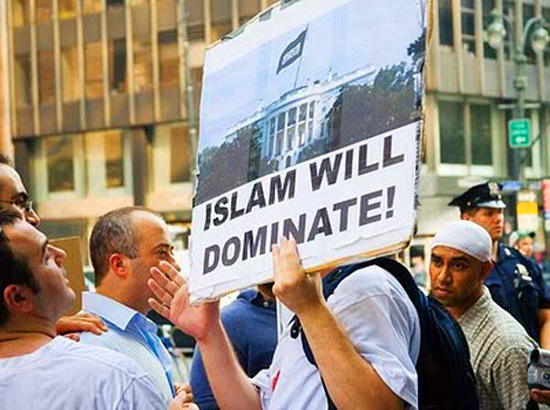 Take for example the Hizb ut-Tahrir group that held a conference in Chicago in 2009 called "Fall of Capitalism & Rise of Islam." And now, a Muslim Cleric has planned a DC rally that is 'a call for the Sharia, a call for the Muslims to rise up and ­establish the Islamic state in America.'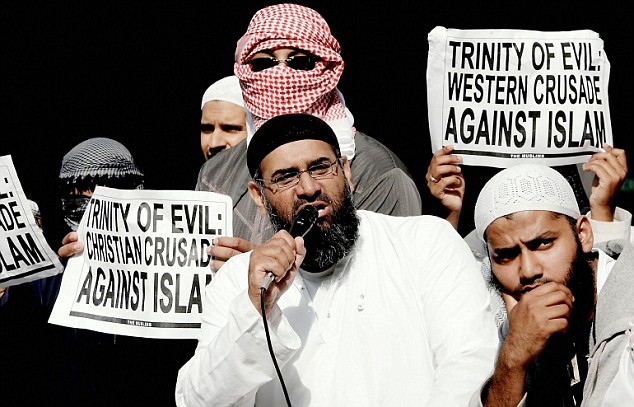 A British Muslim Cleric named Anjem Choudary made waves earlier this month when he appeared on Sean Hannity's program addressing Islamic extremism. He believes that Americans are the biggest criminals in the world today, and he's working with the New York based Islamic Thinkers society to organize a rally outside the White House on March 3. They expect to have thousands show up in support.
Two other British extremists, Abu Izzadeen and Sayful Islam, have also been asked to speak at the demonstration, but it remains to be seen if any of the men will be allowed to receive visas to enter into the United States due to their extremism and ties to terrorists.  source: UK Daily Mail
When Sean Hannity asked Choudary if he would be killed because he is an infidel, the cleric explained that he would not, as long as lived under Sharia rule. Listen to Choudary's own words:
"I do believe that the whole world will one day be governed by the Sharia. That is a promise of the best man who walked the earth, the messenger Mohammed."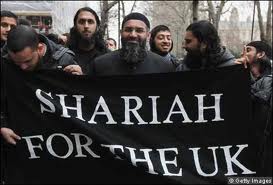 Choudary has been working in the UK to push his extremist views and has called for Sharia rule there for years.
"Choudary, who has no formal Islamic qualifications or right to call himself a "sharia judge" as he does, first came to public attention 10 years ago when he was linked to the recruitment of Muslim trainees leaving Britain to fight abroad, training that involved "guns and live ammunition", he said at the time. He has since organised more camps, protests and marches, [and] shared platforms with terrorist fundraisers." source: Times Online
'Every woman, whether Muslim or non-Muslim, would have to wear a traditional burka,' he said. 'Anyone who becomes intoxicated by alcohol would be given 40 lashes in public, and people who commit adultery would be stoned to death.'
Choudary is a Hypocrite
The UK Daily Mail recently did an exposé on Choudary's past, revealing that he was a big time partier, involved in drinking, smoking marijuana, sexual relations with a number of women, LSD and pornography.
One former friend said: 'I can't keep a straight face when I see "fundamentalist Muslim Anjem Choudary" in the papers attacking the British for drinking or having girlfriends.
'When I knew him, he liked to be called Andy, would often smoke cannabis spliffs all day, and was proud of his ability to down a pint of cider in a couple of seconds."  source: UK Daily Mail
Choudary and those like him are quite serious about their aim to bring Sharia to the whole world and there are already glimpses within the United States thanks to what is called "creeping Sharia."
Hypocrite or not, Choudary is a leading voice in the movement to bring Sharia to America and the time is now to wake up to this very real threat before it's too late.
Click here to learn about the nature of Sharia Law.