Magnitude 6.1 Quake Jolts Eastern Japan No Tsunami Warning
TOKYO — An earthquake with a preliminary magnitude of 6.1 hit east of Tokyo on Wednesday but no tsunami warning was issued and there were no initial reports of damage or troubles at area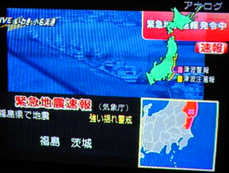 nuclear plants, the Japan Meteorological Agency and local media said.
The earthquake, which caused substantial shaking in Ibaragi and Chiba prefectures east of Tokyo, followed just a few hours after a magnitude 6.8 quake jolted northern Japan.
A tsunami warning was issued but later lifted after the northern Japan earthquake. Just over one year ago, the northeast coast was struck by a magnitude 9 earthquake, Japan's strongest on record, and a massive tsunami, triggering the world's. source – MSNBC

about 1 year ago - 5 comments
A powerful earthquake has hit waters of western Indonesia, prompting local officials to issue a tsunami warning. The U.S. Geological survey said the quake had a preliminary magnitude of 7.3 and struck 260 miles (420 kilometers) off the coast of Aceh province. It was centered 18 miles (30 kilometers) beneath the ocean floor. Arief Akhir, an official with Indonesia's geological agency, said a tsunami warning has been issued. Indonesia is prone to seismic upheaval due to its location on the Pacific "Ring of Fire," an arc of volcanos and fault lines encircling the Pacific Basin.