Netanyahu Says Israel Will Stop Iran Alone If Necessary
UNITED NATIONS: Israel's prime minister declared Tuesday that his country will never allow Iran to get nuclear weapons, even if it has to act alone, and he dismissed the Iranian president's "charm offensive" as a ruse to get relief from sanctions.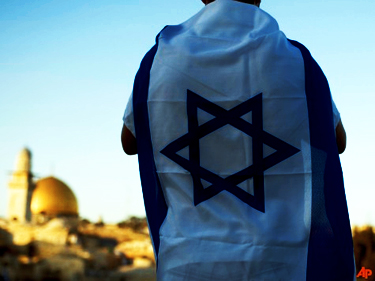 Benjamin Netanyahu told the U.N. General Assembly that Israel's future is threatened by a "nuclear-armed" Iran seeking its destruction. He urged the international community to keep up biting sanctions against Iran, saying the greater the pressure, the greater the chance for diplomacy to succeed.
Netanyahu accused Iranian President Hassan Rouhani of masterminding Iran's strategy to advance the country's nuclear weapons program and said his goal was the same as his hard-line predecessor, Mahmoud Ahmadinejad.
"Ahmadinejad was a wolf in wolf's clothing. Rouhani is a wolf in sheep's clothing," Netanyahu said.
He stressed that all Iranian presidents serve the same "unforgiving regime" where the supreme leader, Ayatollah Ali Khamenei, is a dictator and the real power.
He also accused Iran of lamenting the human tragedy in Syria, but at the same time directly participating in "Syria's murder and massacre of innocents." He said Iran's regime is propping up the Syrian regime that just used chemical weapons against its own people. source – Breitbart
Related
| | | |
| --- | --- | --- |
| | Print article | This entry was posted by NTEB News Desk on October 1, 2013 at 3:36 pm, and is filed under Al-Qaeda, American Spring, End Times, Hamas, Islam, Islamic Terrorism, Israel, Israel Tours, Liberals, Middle East, Obama, Palestinian Statehood, Prophecy, Psalm 83 War, UN, United Nations. Follow any responses to this post through RSS 2.0. Both comments and pings are currently closed. |

about 1 day ago - 20 comments
These are the words which I spake unto you, while I was yet with you, that all things must be fulfilled, which were written in the law of Moses, and in the prophets, and in the psalms, concerning me. Then opened he their understanding, that they might understand the scriptures
Comments are closed.