Obama's Reckless Spending Has Made America A Debtor Nation
Deficit financing gone haywire
Read Related Story: Barack Obama's America
WASHINGTON (AP) — Treasury Secretary Jacob Lew said Wednesday the government will have exhausted its borrowing authority by Oct. 17, leaving the United States just $30 billion cash on hand to pay its bills.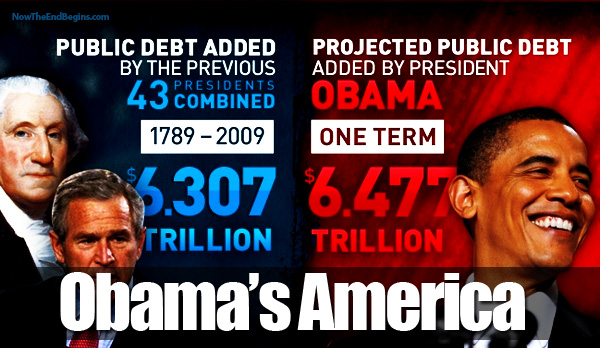 That's a slightly worse financial position than Treasury predicted last month and adds to the pressure on Congress to increase the government's borrowing cap soon to avert a first-ever U.S. default on its obligations.
In a letter to top congressional leaders, Lew warned that a repeat of the debt brinksmanship of 2011 could inflict great harm on the economy and that "if the government should ultimately become unable to pay all of its bills, the results could be catastrophic."
The government reached its $16.7 trillion debt limit in May. Since then, it has been using "extraordinary measures" such as suspending U.S. investments in federal employee trust funds to create about $300 billion in additional borrowing room.
But on the 17th the government will be left with only its cash cushion and daily receipts to pay its bills. Lew warned that before long it would not be able to meet all of its obligations. Economists and financial market experts warn that the stock market could plummet and that investors would demand higher returns on Treasury notes, which could raise interest rates and harm the economy.
A House-passed stopgap spending measure pending before the Senate contains a GOP-backed provision that would give Social Security recipients and bondholders priority in receiving payments from the government.
Lew again rejected the idea.
"The United States should never have to choose, for example, whether to pay Social Security to seniors, pay benefits to our veterans, or make payments to state and local jurisdictions and health care providers under Medicare and Medicaid," Mr. Lew said. "There is no way of knowing the damage any prioritization plan would have on our economy and financial markets. It would represent an irresponsible retreat from a core American value: We are a nation that honors all of its commitments."
Lew again warned that President Barack Obama would not negotiate with Republicans over the debt limit. source -Yahoo News
| | | |
| --- | --- | --- |
| | Print article | This entry was posted by NTEB News Desk on September 25, 2013 at 4:29 pm, and is filed under American Spring, Americanistan, Cashless Society, End Times, Federal Reserve, FEMA Camps, Headline News, Liberals, New World Order, Obama, Washington. Follow any responses to this post through RSS 2.0. Both comments and pings are currently closed. |

about 2 days ago - 148 comments
On Sunday evening, starting at 8:45PM EST, our THE WISE SHALL UNDERSTAND Radio Show will be broadcasting live this very important show. There will be a live chat room, a free gospel tract giveaway, and we will be taking your calls and questions all until 11:00PM EST.
Comments are closed.