London Prepares For Iranian Terror Attack Against Israelis At Olympic Games
Taking into account the possibility of an Israeli attack on Iran during the 2012 Summer Games, the Olympic committee in charge of the London event has formed a special team to prepare for the contingency.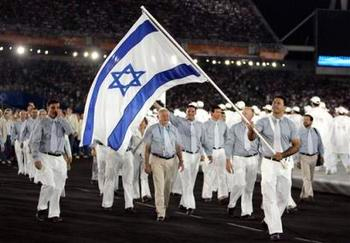 According to the Hebrew daily Yedioth Ahronoth on Wednesday., the team — consisting of politicians, diplomats, security officials and organizing committee personnel — wrote in a report that such a strike was entirely possible.
Yedioth reported that the team was also preparing for the possibility of an earthquake or volcanic eruption.
England is thought to be within the range of Iranian missiles and UK officials believe that a military confrontation between Jerusalem and Tehran could involve the country against its will.
The special team listed a number of steps that would need to be taken in the event of such a conflict, among them: opening a special command center, providing secret safe houses for foreign leaders wishing to meet for diplomatic purposes, and preparing for emergency evacuations of dignitaries.
The team said England would have to guarantee the safety of the athletes and the continuation of the Games, as well as make sure Israeli and Iranian athletes are kept away from each other.
Yedioth reported that the recommendations were passed on to the police, who practiced dealing with the mass protests that could erupt if war broke out. source – Times Of Israel

about 1 year ago - 35 comments
In a special interview with Die Tagespost last week, Latin Patriarch of Jerusalem Fouad Twal, named by Pope Benedict to represent the Vatican in the Jewish State, declared that "Israel's existence as such has nothing to do with the Bible." He then compared Christians' condition in today's Jerusalem with Jesus' Passion: "We Christians never forget that even our Lord himself suffered and was mocked in Jerusalem." The Vatican's criminalization of Zionism, which Arab Churches made a basic condition for Muslim-Christian rapprochement, grants the elimination of the Jewish State priority over defending the rights of their own beleaguered communities. After Arab nationalism failed to eliminate Israel, Arab Christianity and the Vatican are now building a Palestinian identity hostile to Israel and the Jews.