National Debt

Stocks took a sharp nosedive across the board Wednesday in the wake of President Barack Obama's re-election, triggered by worries over the looming "fiscal cliff" and as fears over Europe's economy reemerged.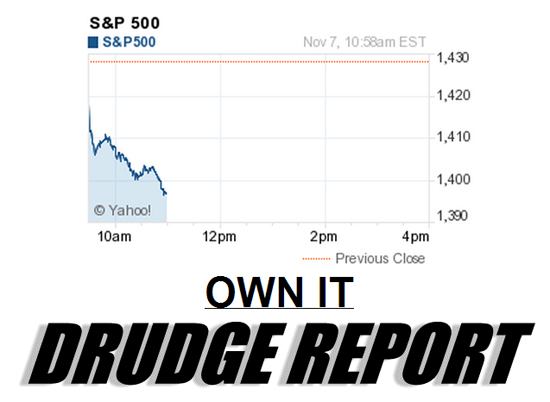 The Dow fell below 13,000, while the S&P 500 traded under 1,400 for the first time since early September.
Obama was re-elected president Tuesday night, put over the top by the crucial battleground state of Ohio following the most expensive election in U.S. history.
Meanwhile, ratings agency Fitch said Obama needs to move quickly to avoid the "fiscal cliff" that is threatening the country's economic recovery, adding that failure to address the issue would likely result in a downgrade in 2013. source – CNBC
The U.S. Treasury quietly warned at the end of a statement issued last Wednesday that it expects the federal government to hit its legal debt limit before the end of this year–which means before the new Congress is seated–and that "extraordinary measures" will be needed before then to keep the government fully funded into the early part of 2013.
On Aug. 2, 2011, President Obama signed a deal he had negotiated with congressional leaders to increase the debt limit of the federal government by $2.4 trillion. But, now, after only 15 months, almost all of that additional borrowing authority has been exhausted.
Although Treasury revealed in its statement on Wednesday that it was likely to hit the debt limit by the end of the year, Treasury Secretary Geithner failed to respond to a letter that Senate Finance Ranking Member Orrin Hatch and Senate Budget Ranking Member Jeff Sessions sent to him on Oct. 15 demanding that he notify them by Nov. 1 what he believes to be the exact date Treasury will hit the debt limit and the date he expects to begin using "extraordinary measures" to avoid it.
"Treasury continues to expect the debt limit to be reached near the end of 2012," says the tenth paragraph of the "Quarterly Refunding Statement" put out by Assistant Secretary of the Treasury for Financial Markets Matthew Rutherford. source – CNS News